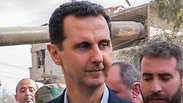 Syrian President Bashar Assad
Photo: AFP
Between Russia and Iran: Assad's comfortable position
Analysis: Syrian president doesn't need foreign forces to pull out of his country just yet. He understands Russians are there to stay and has no interest in confronting Iranians at this time. As far as he's concerned, Iranians can continue their war on Israel from Syria, and he knows Russia is willing to do almost anything to keep him in power.
Syria's situation is improving. In fact, if we look back, its situation hasn't been better since 2011, when the civil war broke out.

Last week, the regime managed to clear the pockets of resistance around Damascus, scored (neither with Iran nor with Russia) success in Daraa, where the revolt against the regime had begun, and most importantly, Syrian President Bashar Assad has learned how to maneuver between the Russians and the Iranians. He isn't bothering the Russians, and their army is helping him expand his rule inside Syria.

With the Iranians, who see themselves as part of the regime, things are more complicated. If Hezbollah does pull its forces out of Syria in the coming days or weeks, as reported, it could start a new story. For Israel too. According to sources in Syria, Hezbollah is already preparing to resettle in Lebanon.

Pay attention to Assad: Since the revolt against him broke out, his situation hasn't been this comfortable, although there is still a long way to go before he can declare sovereignty all over Syria. There are areas Russia has settled in, mainly the seaports, with no intention or plans to leave. And there are Syrian areas where the Iranian Gendarmerie has settled, directed primarily against Israel.

It's clear to Assad, just like it's clear to the Russians, that Israel's eyes are everywhere. As soon as it detects a movement of Iranian military forces, Israel does not hesitate to attack.

On the one hand, the Russians aren't intervening and aren't disrupting Israel's aerial activity in Syria; on the other hand, they aren't preventing the Iranians from operating inside Syria against Israel. But as long as Iran is in Syria, so is Israel.

In his talks with Russian President Vladimir Putin, the main topic discussed by Prime Minister Benjamin Netanyahu is the Iranian involvement in Syria. It's unclear, however, if the Russians have any interest in informing the Iranians about Israel's plans.

It's possible that Putin is keeping quiet, and it's possible that he's relaying the comments as is, more or less, to the Iranian side—and "you decide on your own what to do."

According to reports from Syria, the plan is to get the Iranian army to pull out. The idea is that Russia will remain in Syria alone. The question isn't just when, but also what form the Iranian presence in Syria will take in the future, and will this presence bother Israel.

Iran, for its part, has declared that it has no plans to leave Syria: "We'll remain as long as the regime asks us to." At the moment, they have 70,000 soldiers in uniform in Syria and others in plain clothes.

Assad doesn't need the foreign forces to pull out just yet. He understands the Russians are there to stay, and he has no interest in confronting the Iranians at this time. As far as he's concerned, the Iranians can continue their war against Israel from Syria. After all, he knows Russia is willing to do almost anything to keep him in power. As far as they're concerned, there is no better president.

We should pay attention to the fact that for the first time since the civil war broke out, Assad has almost completely gotten rid of the Islamic State. The Turks are sitting on his tail here and there in the north, but not dramatically.

There are areas, mainly in the medium-sized cities, which still have forces from the Syrian opposition, but they are quiet these days. The Kurds are building a certain area for themselves in the north, but they might not survive, as the Syrian army could reach them too.

The United States, meanwhile, calling on the Iranians and Hezbollah to pull their forces out of Syria, and Assad isn't responding. "It's not even on our agenda," Deputy Foreign Minister Faisal Mekdad stated.

Israel, until the next agenda, will remain a threat in Syria and continue its airstrikes. In the end, the assumption that Russia will broker the negotiations between Iran and Israel in the Syrian context may be fulfilled. After all, it has good relations with both sides.