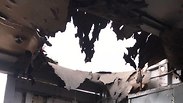 Mortar shells fired at Israeli communities from Gaza
Photo: Oshri Zimer
Gaza border communities' residents under rocket salvo, mortar shells fired from Gaza
Mortar shells fired at Israeli towns surrounding Gaza Strip break Tuesday morning's routine; Israel's southern residents escape to bomb shelters; one mortar shell explodes in a kindergarten yard, one man lightly injured.
One person was lightly wounded in one of Israel's southern communities by a mortar shell fired from Gaza on Tuesday morning. The mortar shell exploded in a kindergarten yard, causing the man shrapnel wounds to his hand.

The mortar shell attack was the biggest one since Operation Protective Edge, but parents were nevertheless instructed to send their children to school as usual.

Gaza border communities' residents attacked (צילום: רועי עידן )

Code Red alerts blared across the Israeli towns surrounding the Gaza Strip, breaking the morning's routine. Another Code Red alert sounded across the Eshkol Regional Council a bit after 9:30am.

Defense Minister Avigdor Lieberman convened an urgent status evaluation meeting at the IDF's Kirya headquarters in Tel Aviv—attended by Chief of Staff Lt.-Gen. Gadi Eisenkot and the defense establishment's heads.

While a spokesperson for Palestinian Islamic Jihad welcomed the mortar shell barrage, the group refrained from publicly accepting responsibility for the attack.

"The attack is a blessed retaliation of the resistance," the spokesperson said. "Our people's blood is not cheap and Israel can't continue spilling it without deterrence."

A show planned to take place in Eshkol Regional Council was canceled in the wake of the rocket and mortar shell salvo.

Meirav Cohen, a resident of a kibbutz hit by one of the mortars, said the Code Red alarm sounded as she began making sandwiches for her daughter to take to school.

"I woke up my daughter, and suddenly the Code Red sounded. I ran to wake up my other children, who were still sleeping, and we all went into the bomb shelter," she elaborated.

"We realized it's a real event, heavy (mortar shell) falls sounded," she added.

Despite the fact there were initially no casualties and instructions were given to resume routine, disturbed residents flocked to the emergency centers. Talks were held in schools and kindergartens and are expected to continue over the next few days.

President Reuven Rivlin requested to speak with the children of the kindergarten where a mortar shell exploded earlier this morning.

"Good morning to all the children, this is President Ruvi speaking from Jerusalem. I would like to wish you a quiet, pleasant day filled with games, stories, toys and studies," the president said.

"Nechama and I are waiting for you to visit us in Jerusalem in the President's Residence. Have a wonderful morning, children," Rivlin added.

Education Minister Naftali Bennett also spoke with the teacher of the kindergarten where the mortar shell exploded. "I was impressed to know that with the teacher's calmness and quiet leadership, the incident was managed in an orderly manner and without panic," Bennett said.

"The Gaza border communities have our utmost support. I would also like to clarify to our enemies across the border that the violation of routine will be met fiercely," the education minister assured.

The NATAL organization—an Israeli trauma center established to treat victims of terror and war—received 60 calls Tuesday morning, a higher number of calls than in times of routine.