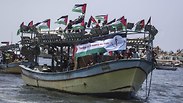 The Gaza flotilla
Photo: MCT
Boat attempting to break Gaza naval blockade stopped by Navy
Flotilla of students, sick people set sail from Gaza with intention of reaching Cyprus; while Hamas prevented some of the boats to enter no-go naval zone, one boat broke through and was stopped by Israeli Navy, dragged to Ashdod naval base; organizers allege they have 'every international right to sail out of Gaza.'
The Israeli Navy stopped a protest flotilla disembarking from the Gaza Strip Tuesday afternoon with the intention of reaching the port of Limassol in Cyprus. Previously, Hamas prevented some of the boats from continuing into the no-go naval zone off the enclave's shores, with only one sailing on.

The flotilla's organizers said their goal was to break through the naval blockade placed by Israel on the isolated enclave. The date for the attempted breakthrough was set to coincide with the eighth anniversary of the Mavi Marmara flotilla, which will be commemorated Wednesday.

The IDF noted that its forces stopped the boat that broke the naval blockade, which carried 17 individuals. The boat's takeover was carried out without incident.

After scanning the boat and searching its occupants, the vessel was dragged to a Navy base in Ashdod. "Medical forces are on standby to care for any sick or disabled people onboard," the army added. "The Palestinians will be returned to Gaza after being questioned."

"Hamas, which is behind the attempted blockade breach, is trying to present a cynical façade that may end up harming Gaza's own citizens and the assistance allowed to enter Gaza by Israel and other countries," the IDF Spokesperson's Unit said.

"The naval blockade is a legal, necessary defensive measure that has been recognized time and again by both the world and the United Nations, intended to preserve Israel's security and maritime borders and protect it against terrorism and armaments smuggling," the army's statement continued.

The statement then said the IDF will continue enforcing the blockade and defending Israel's maritime borders and its citizens.

Initially, the boats participating in the flotilla were observed by Navy boats at a distance of several nautical miles from Gaza's shores, with organizers saying they were laden with students and sick people who wished to go abroad to study medicine or receive treatment.

Organizers commented on the significant likelihood of being stopped by Israeli vessels, and countered by claiming the flotilla was civilian and that they had every international right to sail out of Gaza.

The IDF attacked two boats set to participate in the flotilla last week, taking them out of commission. In 2013, a similar flotilla by European and Canadian activists was planned to leave the strip, but days before launch the ship's hull was detonated by unknown parties and the ship was rendered inoperable.

Tuesday's attempts to break through the naval blockade took place on the backdrop of the heaviest mortar barrage on Israel since Operation Protective Edge, with dozens of mortars and some rockets fired from Gaza at Israel's border communities.

Five Israelis were wounded lightly to moderately and the IDF struck back at Gaza targets in retaliation, also destroying a Hamas terror tunnel running 900 meters into Israeli territory under the Kerem Shalom border crossing.