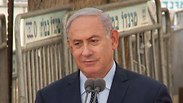 PM Netanyahu
Photo: Hagai Dekel
Netanyahu vows Hamas will 'pay a lot more' if violence continues
Speaking at annual memorial ceremony for victims of the Altalena ship a day after tensions rise on Gaza border as volley of projectiles fired into southern Israel prompt IDF response, prime minister warns Hamas not to test Israel, boasts of the 'most powerful' IDF response 'in recent years.'
The Gaza-ruling Hamas terror group will "pay a lot more" if it continues to launch attacks or allows other terror organizations to operate against Israel, Prime Minister Benjamin Netanyahu said on Wednesday, a day after dozens of projectiles were fired from the strip into south Israel, provoking retaliatory IDF strikes.

"Since yesterday, the IDF has been forcefully responding to Gaza with attacks on dozens of terror targets in the most powerful way in recent years," Netanyahu said during a speech at the annual memorial ceremony for the victims of the Altalena ship, which was sunk at the orders of Israel's first prime minister, David Ben Gurion, in June 1948 after the Irgun (IZL) organization refused to hand over the weapons aboard to the IDF.


The ceremony, also attended by President Reuven Rivlin, took place at the Nahalat Yitzhak Cemetery in Tel Aviv.

Sixteen people were killed from the Irgun, along with three IDF soldiers while dozens more were wounded in one of the most controversial decisions made by Ben Gurion.

"The ones responsible for the escalation inspired by Iran is the Hamas regime, the Palestinian Islamic Jihad movement and other terror organizations," Netanyahu continued in his remarks.

"I won't elaborate on our plans since I don't want the enemy to know what to expect, but one thing is clear: When they try us, they pay immediately. If they continue to try us, they will pay a lot more," he vowed, before listing Israel's achievements and praising its world standing.

"We are developing ourselves in all fields, in economics, in foreign relations. In our 70th year of independence, Israel is a world power. World leaders are interested in hearing our opinions," he declared.

"Next week I will travel to Germany, France and Britain where I will present before the leaders the latest developments in our region. I will present every Iranian attempt to spread itself in Syria and I will tell them that we will not allow it to obtain a nuclear weapon," he said, adding that he fully backed Israel's actions and responses to violence gripping the Gaza border.

"I support the IDF soldiers and all security forces and I praise the resilience of the southern residents," he said.