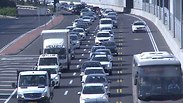 Faulty infrastructure
Photo: Avi Chai
OECD: Israel must shrink social gaps, despite booming economy
A 2018 economic OECD report predicts sustained growth in Israel will reach more than 3.5 percent in coming year, calls on Israel to invest more in education, transportation, health and vocational training for Haredim, Arabs who are insufficiently involved in labor market.
A new economic survey of Israel by the Organization for Economic Co-operation and Development (OECD) maintains that growth is strong, unemployment is decreasing but gaps in efficiency and social cohesion remain substantial.

The report contains some advice for Israeli policy makers: invest more in education, welfare, public health and public transportation to improve equality.


Efforts by the government to shrink societal gaps and inequality would prove to be conducive to economic growth, according to the report. However, such efforts will demand structural internal reforms designed to enhance vocational training and increase productivity among disadvantaged sectors.

The report posits that investment in the poorer Arab and Haredi sectors, as well as improving public transportation, are vital prerequisite steps for social cohesion.

The Gross Domestic Product (GDP) grew by 4.25% in the last quarter of 2017 and the first quarter of 2018, it says, and despite a slight decrease in the construction industry, the economy remains strong and is supported by accelerated consumer spending and exports, mostly consisting of services.

The report also mentions the increase in imported automobiles prior to the tax reforms that went into effect in January.

Unemployment dropped to 3.6% while the consumer price index rose last month by 0.4%. Inflation remains low, in part caused by the reduction and cancelation of tariffs.

The housing market, the report says, is steady when compared to the corresponding period of 2017 when housing prices rose by 5.4%. With the talk of tax cuts however, the report warns that local geopolitical tensions necessitate the government to maintain a significant budget surplus.

The OECD report also states that growth in Israel will increase to about 3.5 percent this year and next, with the significantly low interest rate and the global economic environment possibly serving to accelerate demand and employment.

The OECD further expects a rise in wages that will lead to a consistent accompanying rise in the inflation rate. An increase in the range of 1-3 percent, will lead to an increase in the interest rate.

The low unemployment rate should support wage increases and fuel domestic consumption. To this end, investments in high-tech and the development of Mediterranean gas fields are planned for 2019.

If the geopolitical tensions in the region intensify, however, these forecasts may be shelved. On the other hand, if the international economic environment becomes stronger, and if the Bank of Israel continues to expand its policies or the government continues to reduce taxes, economic growth is expected to increase.