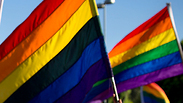 As part of the upcoming Gay Pride month, three stages are being assembled on Tel Aviv's Rothschild Boulevard where passerby's belonging to the LGBT community can share difficulties and struggles, as well as their hopes and dreams, with strangers.

Ella Amst, a 24-year-old transgender woman, told listeners, many of whom were unfamiliar with her lifestyle, about her experiences after her transformation. "I want to tell you about visiting the doctor for a sore throat," she began.

"The doctor gives you a weird look and uses male pronouns to address you. You correct him using female pronouns and are not sure whether he understands. He takes a look then leans back and says: 'I do not know how to deal with a sore throat in transsexual patients.'

"Our goal is to reach every health clinic, every hospital and every medical department. Initially from outside, in order to educate and advise, but in the not so distant future there will be transsexual doctors. We are everywhere and we will reach everywhere," she said.

The street stage initiative is a joint project of the Tel Aviv Municipal LGBT Community Center and the Israeli LGBT Association and is scheduled to last for two weeks.

During its unveiling, arguments erupted between participants and passerby's who expressed opposition to the message the initiative's leaders were seeking to convey.

Zizou Abu Elwah says he suffers from double discrimination because he is an Arab-Israeli and a homosexual. "People always like to draw the card against Palestinian Arabs and say: 'Say thank you (to Israel), if there was a Palestinian state you would be thrown off of the roof.' It is difficult to deal with such claims," he said.

"Meanwhile, the only body that conducts systematic and active pursuit of LGBT individuals in the West Bank and Gaza is the IDF, which forces them to spy for Israel; so much so that the word 'homo' became synonymous with collaborator," Elwah claimed.

Amit Lev Brinker, who volunteers with LGBT young people involved in prostitution, described the extent of the phenomenon.

"It is present and it is bigger than we think, because we do not see the gay young man thrown out of the house walking around the street, but rather at someone who offers him accommodations in exchange for sex," Brinker explained.

"Nor do we walk around the alleyways where a young transsexual is hiding in the dark and hoping that the next client will not decide to beat her. These are our youngsters, and many times, the customers themselves are members of our community."

Among the major events to be held during the month in Tel Aviv to mark Gay Pride is the traditional pride parade next Friday, June 8, which is expected to attract hundreds of thousands of participants and tourists.

This Thursday, a street party will be held in Sheinkin Park marking the 20th anniversary of the parade.