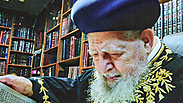 Rabbi Ovadia Yosef
Photo: Israel Bardugo
An unusual wedding is set to take place this coming week as Ovadia Cohen, named for his grandfather former Chief Rabbi of Israel, spiritual leader of the Shas Party and the most influential Sephardic rabbi in his generation, Ovadia Yosef, will tie the knot with his boyfriend Amichai Landsman.

"I was blessed with a wonderful family which accepted me from the very first moment, and they accepted Ovadia as well," Amichai told Yedioth Ahronoth. "We are fully out and proud. Ovadia took a very brave step to be in a relationship with me and we are happy to get married. I am not part of the religious gay community but I think they do great work."

Cohen's grandfather Ovadia Yosef was the foremost Halachic authority for Middle Eastern, Spain descended or Sephardic Jews in recent time. The Yosef family is very influential and most of Rabbi Yosef's 11 sons and sons-in-law hold important rabbinic positions, most prominent among them is his son Chief Sephardic Rabbi Yitzhak Yosef.

Ovadia was very close to his grandfather. His parents divorced when he was a child and although his grandfather had just finished his term as chief rabbi and was occupied with his Halachic writing as well as with the founding of Shas, he devoted himself to help raise his grandson as if he was his son.

Living in his grandfather's house, Ovadia was exposed to a variety of Sephardic religious and political leaders and all recent Sephardic chief rabbis, as well as Shas Party heads, know him personally, among them Security Cabinet Minister Aryeh Deri.

Last year a controversy erupted over the participation by Shas MK Yigal Guetta in the same-sex marriage of his nephew. Guetta refused the demand by Shas's spiritual leadership to issue an apology for attending the wedding and was forced to resign his position in the Knesset.

As is common among religious members of the gay community, Cohen was married to a woman who he had two children with. After a number of years they divorced and Cohen came out as gay. Three years ago he met Landsman, who grew up in a religious-Zionist community in Haifa, and the two moved in together while maintaining a religious lifestyle.

Gradually, they began to expose their respective families to their relationship. Landsman's family came to accept him relatively well compared to the religious community; Cohen's family, on the other hand, found it much harder to accept his homosexuality.

On an internet forum for religious members of the LGBT community, Landsman opened up about his experience praising his family for their acceptance and discussing the "what will the neighbors think?" mindset common among conservative sectors of Israeli society. "My partner is part of the family," he said.

They are expecting some 200 guests at their wedding, mostly members of Landsman's family, members of the religious gay community and a small amount of Cohen's relatives.

The two are part of a growing community of thousands of men and women, yeshiva and ulpana (religious girl's high school) graduates of the religious Zionist movement, who began to feel buds of homosexual sexual orientation at an early age but could not conceive of conducting a life that is contrary to halacha (Jewish law) and to the rigid religious conventions.

In recent years, members of the religious LGBT community have been waging a public struggle for awareness and tolerance. In the framework of recent social change, more and more same-sex weddings have been taking place with the participation of the couples' families.

Many members of the religious gay community had previously been forced to participate in workshops run by the "Atzat Nefesh" organization, which practices conversion therapy to try to turn religious homosexuals into straight men.

Participation in those workshops usually came at the advice of a rabbi or in the belief that it was indeed possible to "break" the homosexual tendency. However, over the year, many of them had very difficult experiences participating in the workshops: depressions, panic attacks and suicide attempts, due to the growing rift between their inherent sexual orientation and the Halachic prohibition and the social taboo.

The couple's wedding ceremony will be lead by Zahorit Sorek, a prominent activist in the gay religious community and a member of the Yesh Atid Party; she is ranked 19th on the party's list for the Twentieth Knesset. She herself was married to a man and had children with him, and she also studied in leading institutions of religious Zionism.

A few years ago she came out of the closet, married a woman and since then she has accompanied religious youngsters who are struggling with their sexual identity. Despite the inherent dissonance, she still describes herself as Orthodox.

Cohen and Landsman's wedding will be the seventh wedding ceremony that she will lead for members of the religious LGBT community.