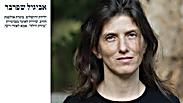 Avigail, one of the participants in a new LGBT religious online campaign
Dozens of lesbian, gay, bisexual and transgender religious Jews have revealed their identities and sexual orientation online, publishing their names and photos in a first-of-its kind campaign.

Titled "Our Faces," the campaign is the work of Bat Kol, an organization of religious gay women, and Havruta, the men's equivalent, in cooperation with religious groups at the IGY (Israeli Gay Youth) NGO.

The groups published the details of 44 members of the religious LGBT community. For some of them, this initiative marks their first public coming-out.

The campaign was preceded by a message to religious newspapers with a list of the participants' names. Now they are taking an additional step – being photographed and saying which religious schools they went to, in addition to stating their current relationship and family status.

"There is someone to talk to. You have friends who are like you," the two organizations wrote on their websites and Facebook pages.

"We, gays and lesbians who grew up in religious and ultra-Orthodox homes, know the feelings of loneliness, the alienation, the suffocation. We know the period of discovery and realization that we are a little different from others," the organizations' statement continued.

"Like you we were in yeshivas, religious schools, movements, seminaries, the army. Like you we were scared to share our story. But we are here – strong and out in the open – and we invite you to read a small story from our lives, that might help you to feel more secure."
'Yes, I'm afraid'
Everyone who revealed themselves in the campaign, which was initiated and produced by Dan Uziel, was encouraged to share photos with their friends on social media – "so that our support and visibility would reach as many people as possible," he says.

One of the participants, Nadav Schwartz, told Ynet that the exposure was not easy for him, despite his activism at the forefront of the battle for recognition of religious LGBT Jews.

"It's a little frightening to suddenly think about my photo next to my name going around the internet," Schwartz said. "I don't know where it'll get to and who will see it. And yes, I'm afraid."

So why did you still do it?

"I hope that it will reassure a young person who is still in the closet, who is still afraid and is still unsure in which direction life will take them. I want them to see and understand that it's possible to live believing in yourself and in the system in which you grew up. I want them not to repeat my mistakes. And most of all, I want them not to despair."

The head of Havruta – Religious Gays, Daniel Jonas, said: "For years there were people who were happy to say 'it doesn't happen to us,' or 'yes, but it's a trivial phenomenon that doesn't happen everywhere.'

"Well then, we're here! With faces, names, personal stories and a clear message to all those young people – you're not alone! We experienced what you are experiencing now, but you have a future as religiously-observant LGBTs who are fulfilled and live with love, a partner, and even children," Jonas added.