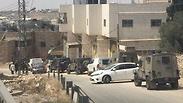 An IDF force foiled an attempted car-ramming attack in the city of Hebron Saturday morning, killing the terrorist in the process.

The IDF Spokesperson's Unit stated that the terrorist tried to run over soldiers who were in the area, and the force responded with gunfire.

There were no casualties among the soldiers. No weapons were found in the possession of the attacker.


An initial investigation of the incident found that a 35-year-old Palestinian from Beit Ummar, a village near Hebron, sped with a "Bobcat" UTV towards a military force secuing a checkpoint leading to the Tomb of the Patriarchs from Kiryat Arba, which is the Jewish settlement in Hebron.

The soldiers ordered him to stop, but the suspect didn't heed their warnings and, after failing to hit them, made a U-turn and tried to attack Israeli civilians.

"An additional soldier who was positioned on top of the roof of a nearby building identified the threat to the civilians who stood nearby and, in response, fired at the terrorist," the IDF said in a statement.

Concrete blocks placed around the soldiers' position apparently prevented the driver from running them over.

The attempted attack took place while Jewish worshipers were passing by, and during a period when the IDF allows full freedom of worship for Palestinians in the West Bank, on the occasion of the Muslim holy month of Ramadan.

The easing of restrictions includes the opening of the entire Cave of the Patriarchs to Muslims only on Fridays of the holiday, as well as the freedom of movement for tens of thousands of Palestinians to reach the Temple Mount in Jerusalem.

The IDF intensifies its activities every year during Ramadan—a volatile month in which many terror attacks have taken place over the years. It is set to come to a close June 14.

During one such activity in the al-Am'ari refugee camp on the outskirts of Ramallah on Thursday, May 24, an IDF soldier was mortally wounded after a slab of marble was dropped on his head.

The soldier, 20-year-old Staff Sgt. Ronen Lubarsky from the elite special operations force Duvdevan Unit, was operating along with his unit in the camp to act as a covering force working in conjunction with another unit tasked with finding and arresting "several terrorists who carried out attacks in the past" by the Shin Bet.

He succumbed to his wounds two days later.