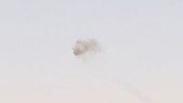 Iron Dome intercepts mortar
The Israeli Air Force attacked Hamas military posts in Khan Yunis and Rafah in the southern Gaza Strip on Saturday night, according to Palestinian reports, hours after two mortar shells were fired at Israel.

The Iron Dome missile-defense system intercepted one of the mortars shell fired from the Gaza Strip, while another mortar shell apparently landed inside the Gaza Strip.

The mortar fire was preceded by Code Red rocket-alert sirens, which were sounded three times in the Eshkol Regional Council at around 7:50pm.

There have been no reports of injuries.

The mortars were the first since Hamas declared Wednesday a ceasefire has been reached with Israel.

Hamas and the Palestinian Islamic Jihad fired 28 projectiles at Israeli communities near the Gaza border on Tuesday morning, with at least two hiting inside the communities, one outside a kindergarten. A gardener was lightly wounded in his hand from shrapnel and was taken to Soroka University Medical Center in Be'er Sheva, where he received treatment.

According to the IDF, the majority of the projectiles were intercepted by the Iron Dome missile defense system. A number of the shells also fell in open space near the Israeli towns.

More mortars and rockets followed in the afternoon and evening hours of Tuesday, while the IDF mounted retaliatory strikes, which began Tuesday afternoon and continued into the night, hitting more than 65 targets.

An IDF soldier was moderately wounded by shrapnel while two other soldiers were lightly wounded. A Sderot resident fell down and suffered contusions while running to a shelter, as three additional civilians suffered panic attacks.

The Iron Dome missile defense system intercepted several of the rockets or mortars that whistled through Sderot's skies as residents of Israeli towns near Gaza were instructed to return to bomb shelters for a second time in one day.

On Wednesday, Hamas leaders said they had agreed to a ceasefire with Israel.

Khalil al-Hayya, a senior Hamas official, said Egyptian mediators intervened "after the resistance succeeded in warding off the aggression." He said militant groups in Gaza will commit to the cease-fire as long as Israel does.