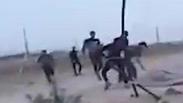 Previous infiltration from Gaza Strip
Palestinian terrorists from Gaza Strip cut through the border fence and infiltrated southern Israel Sunday evening, before setting ablaze a container containing equipment used for the construction of an anti-tunnel barrier along the border.

The group returned to the strip after lighting the fire. Nobody was injured but damage was caused to security infrastructure.

A week and a half ago, a similar incident took place as terrorists infiltrated from Gaza into Israel and set fire to an unmanned IDF post. No injuries were caused and in response the IDF fired tank shells at Hamas military posts in the area.

Gazans infiltrate southern Israel

Palestinian sources reported that those involved managed to return to Gaza after attempting to destroy an unmanned IDF post.

The IDF announced that the offensive against Hamas positions was in retaliation for the igniting of the post caused by several terrorists who crossed from Gaza. "The IDF was constantly monitoring the incident," an IDF source stressed.

Another incident took place about two months ago, when four Palestinians entered Israel and set fire to engineering equipment being used for the construction of the underground barrier.

Crossing the border fence in the Kissufim area, they were photographed from the direction of the Gaza Strip after a tank passed by. In response, the IDF attacked a target in a Hamas training camp in the southern Gaza Strip.

The four Palestinians approached IDF engineering equipment while carrying fuel intended to destroy the equipment belonging to contractors. They fled back into Gaza upon seeing the IDF force. There were no injuries but equipment was damaged.