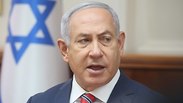 Prime Minister Benjamin Netanyahu
Photo: Marc Israel Sellem
Netanyahu: Israel working to prevent humanitarian collapse in Gaza
Prime Minister Netanyahu says he's examining several possibilities to prevent further deterioration of the humanitarian crisis in the strip, accusing Abbas and Hamas of the situation: 'Hamas made a conscious decision to blow up on the (border) fence.'
Prime Minister Benjamin Netanyahu said Monday evening that Israel was examining different options to prevent a humanitarian collapse in the Gaza Strip.

"Israel is the country that works the most to prevent a collapse in Gaza," Netanyahu said during a briefing with journalists in Berlin after his meeting with German Chancellor Angela Merkel.

During their meeting, Netanyahu told Merkel the crisis in the Gaza the result of Palestinian President Mahmoud Abbas's poor handling of the situation and terror organization Hamas's decision to invest all of the aid money it receives in terrorism.

"Hamas made a conscious decision to blow up on the (border) fence," Netanyahu accused.

The prime minister said Israeli farmers whose fields were damaged in fires caused by incendiary kites flown from Gaza will be compensated and that Israel is examining the possibility of deducting those funds from tax money its collects on behalf of the Palestinian Authority.

Netanyahu also noted the IDF is working to develop tactical measures to combat the incendiary kites. "I don't ever settle for just defense," he added.

The prime minister's meeting with the German chancellor lasted over an hour and a half and included a broader forum with Israel's National Security Adviser Meir Ben-Shabbat, the Prime Minister's Military Secretary Brig. Gen. Eliezer Toledano, and Israel's Ambassador to Berlin Jeremy Issacharoff.

Later, Netanyahu and Merkel held a private meeting, which dealt mostly with Iran.

"Israel is decisive in its objection to the development of nuclear weapons in Iran—with the deal and without it," Netanyahu said. "If we identify such an attempt, we are obligated to prevent Iran from obtaining nuclear weapons."

He said Israel was working to thwart Iran's expansion and aggression in the Middle East, reiterating that Tehran must leave Syria completely.

"They're trying to form an army against Israel on Syrian territory, and we are against that. They're not hiding their intention to destroy Israel, and we prefer to act while the threat is small and not wait."

"Iran's military presence in Syria includes some 18,000 Shiite militiamen under the command of Iranian commanders. The militias come from Afghanistan, Pakistan and other places, and they have once specific goal - to wage a religious campaign in Syria, which is mostly Sunni, and convert the citizens," Netanyahu charged. "Iran is seeking to increase the number of militia fighters to 80,000 and spark another religious war, this time inside Syria."