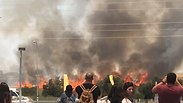 Major fire near Sapir College
Photo: Shir Stolero
An incendiary kite flown from Gaza sparked a major fire in an open field across from the Sapir College in the Sha'ar HaNegev Regional Council, near the southern city of Sderot on Tuesday afternoon.

Heavy smoke covered the college building as firefighters were dispatched to the area and worked to prevent the fire from spreading to the nearby road and into the college. There were no reports of injuries.

On Tuesday afternoon, fires broke out in seven other locations in the Gaza vicinity, four in the Eshkol Regional Council and three in Sha'ar Hanegev. Firefighters gained control of the fire in all places.

Shir Stolero-Tamir, a social work student at the Sapir College, told Ynet: "We were sitting outside during the break, and suddenly there was a small spot of fire which spread all over within seconds. Everything is black now. We alerted the firefighting services, but it took them a long time to get here. There was some hysteria. Most of us went out and just watched it."

Video: Barel Efraim, Almog Dayan (צילום: בראל אפרים, אלמוג דיין)

Kinar Moulay, another social work student, said: "We didn't see the kite land, but as soon as it landed everything spread really fast. It's like a siren, we're used to it already, unfortunately. The firefighter gained control of the fire very quickly."

Earlier Tuesday, a fire broke out near homes in Moshav Netiv Ha'asara in the Hof Ashkelon Regional Council after an incendiary kite flown from the Gaza Strip landed in the community. There were no reports of injuries and firefighters gained control of the flames.
Lieberman vows to 'settle the score'
Defense Minister Avigdor Lieberman said Monday that Israel was not prepared to accept a reality in which incendiary kites are flown over into the country from the Gaza Strip on a daily basis.
"We should be clear that we are not prepared to accept the kites becoming normality. The same applies for riots on the border fence and attempts to breach it and cause damage to the sovereign territory of Israel," Lieberman said during his remarks at the Yisrael Beytenu faction meeting.
His comments were made as southern Israel residents have been forced in recent weeks to endure an upsurge in the number of flaming kites being flown across the border, causing huge fires that have incinerated agricultural areas and destroyed wildlife.
"That's why we will act in accordance with Israeli interests in time and at a timing that suits us, whenever we decide," he warned. "In any event, I am not in the custom of leaving scores unsettled and we will settle all scores with Hamas and Palestinian Islamic Jihad."
According to the defense minister, 600 such kites have been sent from the strip so far, while 400 have been intercepted by Israeli security forces using technological means.
"Two-hundred succeeded in reaching our territory and they burned 9,000 dunams of crops and forests," Lieberman said.