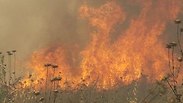 Fire caused by incendiary kite
Photo: Yoav Zitun
Public Security Minister Gilad Erdan said Tuesday that Israeli snipers should shoot Palestinians in Gaza who are spotted flying incendiary kites over the border into Israel.

Palestinians are sending kites dangling coal embers or burning rags across the Gaza border to set fire to farmland and forests, in a new tactic that an Israeli minister said should be countered with "targeted assassinations".

"I expect the IDF to handle these kite-flyers exactly as they would any terrorist, and the IDF's targeted assassinations must also apply to these kite-flyers," Erdan said.

Israel has drafted in civilian drone enthusiasts as army reservists, instructing them to fly their remote-controlled aircraft into the kites, an Israeli general said.

"If their drone ends up getting lost in the process, we compensate them," the general told Reuters, speaking on condition of anonymity.

The army has also fitted larger surveillance drones with weighted fishing lines or blades that can snag or slash kite strings in mid-air, the general said.

But he acknowledged the limitations of such measures, saying: "We'll probably end up having to shoot kite-flyers too."

According to Defense Minister Avigdor Lieberman, 600 such kites have been sent from the strip so far, while 400 have been intercepted by Israeli security forces using technological means.

"Two-hundred succeeded in reaching our territory and they burned 9,000 dunams of crops and forests," Lieberman said on Monday, adding that Israel would not accept the kites as a daily norm.

"It began spontaneously. We never thought we would achieve such good results," said Shadi, one of five Palestinian teenagers preparing kites with fabric dipped in diesel and lubricant oil in a Gaza field.

"The idea is simple: use the simplest tools to cause damage and losses on the Occupation (Israel)," said Shadi, 19, wearing a "V for Vendetta" mask favored by protesters in many parts of the world and who, like the others, declined to give his last name.

No one has been hurt by the fires, but some 2,250 acres (910 hectares) of fields and nature reserves, already parched after a dry winter, have been burned by flames stoked by Mediterranean winds, causing $2.5 million in damage, Israel's government said.

Daniel Ben-David, a forestry official for Israel's quasi-governmental Jewish National Fund, said some kites had been decorated with swastikas or the Palestinian national colours, but more recently were made of transparent nylon sheeting.

Some had leaflets attached. "Prepare for a scorching summer," read one, in Hebrew.

In Gaza, kite-maker Shadi said his group had never used swastikas on their kites. He confirmed that transparent plastic was the best material as it made the kites almost invisible against the sky.


Even if the protests wind down, he and others will continue to send the kites—some of which carry the photos of Palestinians killed in the demonstrations—he said.

"Each kite costs us 10 shekels ($2.80). We pay it for it out of our own pockets," Shadi said.

A senior White House envoy, Jason Greenblatt, described the kites as "not harmless playthings or metaphors for freedom (but) propaganda and indiscriminate weapons".

Shahar Hay contributed to this report.