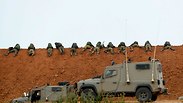 IDF snipers along Gaza border
Photo: AFP
Bracing for most violent Gaza clashes yet, IDF beefs up border security
Expecting thousands of Gazans to descend on the security fence as they mark Naksa Day, hundreds of IDF snipers fan out along the border, tanks reinforce already-stationed infantry units, Iron Dome deployed to face Hamas rocket bombardment, and drones put on standby to intercept incendiary kites.
The IDF is beefing up its security presence in the Gaza region in anticipation of thousands of Palestinians descending on the border with Israel on Friday afternoon to mark the annual Naksa Day, as they commemorate the displacements that accompanied Israel's victory in the multi-front 1967 Six Day War against neighboring Arab states.

Hundreds of IDF snipers began taking up positions overnight Thursday, fanning out along Gaza security fence to augment the already robust security presence on the volatile border.

The snipers joined soldiers from the Golani Brigade and the Armored Corps who are positioned there to defuse violent outbreaks in the riots which are orchestrated and led by the military wing of Gaza's ruling Hamas terror group.



In addition to the ground forces, Iron Dome anti-missle defense batteries will be reinforced to intercept multiple rockets or mortar shells fired from the strip, while the the IDF has also prepared to send drone into the sky to intercept incendiary kites flown over the border, hundreds of which have wreaked havoc on Israel's southern residents.

The Naksa protest—which was supposed to be staged during the week but was rescheduled for Friday to coincide with the weekly violent "March of Return" demonstrations—is the final event in a series of calendar dates that led to the outbreak of the violent fence demonstrations that have persisted since March 30.

On Thursday, The IDF began dropping leaflets across the Gaza Strip, urging residents "not to allow Hamas to turn you into tools for serving its narrow interests" as they prepare to stage mass border protest on Friday.

The IDF leaflets scattered throughout the coastal enclave warned residents to stay far from the Israeli border, to refrain from attempting to breach or damage it, or carry out terror attacks against Israeli civilians or security forces during the protests, which will be held under the banner of "March of the Million to Jerusalem."

"A wise person is a person who takes into account the consequences of his actions and decides in favor of the act in which the benefits surpass the damages it causes," the leaflets said.

Despite the IDF's warnings, Hamas has urged the Gaza residents to take part in the demonstrations. In a video broadcast on the Hamas-controlled Al-Aqsa TV station, residents are called upon to make their way to the "March of Return and to destroy the blockade."

Also on Thursday, the Israel Air Force sent a signal of war-readiness to Hamas by completing a week-long military exercise simulating a two-front aerial campaign on the southern and northern borders, with Israeli jets battering hundreds of simulated targets.