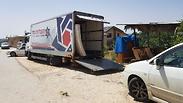 Preparations for evacuation in Netiv Ha'avot
Some of the families living in the Netiv Ha'avot outpost in Gush Etzion began loading their belongings on Defense Ministry trucks on Sunday.

Two days before the outpost's planned evacuation, the families started moving their property from their homes several meters to the south, to Plot 91 that has been prepared for them.

The High Court ruled that the homes had been built illegally, some on unregulated lands, following a petition filed by the Peace Now movement.

Netiv Ha'avot residents say not a single Palestinian has been able to prove his ownership of the land so far. Peace Now, however, says the petition includes names of Palestinian petitioners who claim to own the land.

After dozen of High Court petitions and discussions, the outpost's 15 families are expected to be evacuated on Tuesday. The families will move temporarily to the plot prepared for them.

Throughout their struggle, the Netiv Ha'avot residents have made an effort to present resolve alongside stateliness. According to estimates, the evacuation will end peacefully without any violent incidents, unlike what happened in the evacuation of nine homes in Ofra or in the evacuation of Amona last year.

Rabbis and public officials are expected to attend a solidarity rally at the outpost on Monday evening. According to agreements with the army, no violent incidents are expected and most families will evacuate relatively quietly.

Nevertheless, the outpost's residents have called on the public in recent weeks to come and voice its protest during the evacuation.

The families will live in the alternative plot for two years and hope that the evacuated outpost area will be regulated.