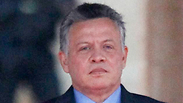 Jordan's King Abdullah
Photo: Reuters
Report: In pro-Saudi move, Jordan says won't name new envoy to Iran
Al Arabiya network quotes senior Jordanian source as saying kingdom has decided not to appoint another envoy after recalling its ambassador from Tehran, in light of 'Jordan's fixed position on Iranian policies which include interfering in the affairs of the region's countries.'
A high-ranking Jordanian source told the Al Arabiya network on Friday that Jordan had decided not to name a new envoy to Iran, after recalling Ambassador Abdullah Abu Rumman from Tehran.

The move comes on the backdrop of the Hashemite Kingdom's warming relations with the Gulf states.

"There is no intention to name another Jordanian envoy in Tehran at the time," the source told the pro-Saudi network, reiterating "Jordan's fixed position on Iranian policies which include interfering in the affairs of the region's countries."

He voiced Jordan's concern over "the security of the region's countries, particularly of Saudi Arabia and the Gulf Cooperation Council countries."

The source added that "Saudi Arabia's security is (part) of our security, and the deep relations with the Arab states and Gulf states are an important thing to maintain."

Jordan's Foreign Minister Ayman Safadi said last month, "We condemn any threat against Saudi Arabia and see it as a threat to Jordan."

Saudi King Salman called an aid meeting last week to look into ways to help Jordan deal with the economic crisis in the kingdom, which had led to riots following an attempt to raise taxes. During the meeting, which was held on Sunday, it was decided that Saudi Arabia, the United Arab Emirates and Kuwait would offer Jordan $2.5 billion in aid.

On Thursday, Qatar announced a plan to invest some $500 million in Jordan.

Jordanians took to the streets in early June to protest the economic situation in the kingdom. Thousands blocked roads, burned tires and clashed with police forces following the Jordanian government's desire to raise taxes and electricity and gas prices. In a bid to halt the riots, King Abdullah ordered the suspension of the move.

The protest led to the resignation of Prime Minister Hani al-Mulki. The Economist's research division has ranked Amman first in its cost of living index in the Arab world.