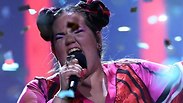 Netta Barzilai performs 'Toy' after winning Eurovision
Photo: AFP
Turkish PM claims Israel cheated to win Eurovision
Turkey's Prime Minister Yıldırım tells TV show 'The Israeli singer wasn't good. Israel is only able to kill, not to sing,' arguing that the voting system was changed so Israel could win and host the competition in Jerusalem, thus 'sowing strife between religions.'
Turkey's Prime Minister Binali Yıldırım accused Israel on Friday of tampering with the Eurovision Song Contest results so it could win it with Netta Barzilai's song "Toy."

"The Israeli singer wasn't good. Israel is only able to kill, not to sing," he charged during an interview with Turkish Babala TV.

Yıldırım implied Israel had faked its win in order to hold next year's Eurovision in Jerusalem and instigate a religious war.

"The song contest this year developed to an ideological thing. For the first time, they let Israel win the competition so that they can host it next year," he claimed.

Yıldırım argued Israel had won this year's Eurovision despite not receiving the highest score.

"They let them win despite not getting points as it's being held in the country next year that won. They changed the voting method. They planned everything so that it can be held in Jerusalem purposely," Yıldırım claimed.

"The imperialists did it since they want the contest to be held in Jerusalem next year in order to sow strife between religions" in the region, he went on to say.

Turkey hasn't participated in the singing competition since 2013. It decided to boycott the Eurovision, claiming there was discrimination in favor of the large countries in the European Union.

Yıldırım told Babala TV that Turkey does not plan to return to the competition.

Turkey is not the only country to come out against the possibility of holding the Eurovision in Jerusalem next year.

Some 22,000 of Iceland's citizens signed an online petition demanding to boycott the contest in the wake of the Gaza border violence and Israel's policy towards Palestinians. As a result, Iceland's RÚV national public broadcasting organization is expected to convene in the near future to decide whether the country will cancel its participation next year.

In The Netherlands, a parody of Israel's winning song "Toy" was criticized by Jewish and pro-Israel groups as "anti-Semitic."