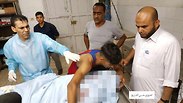 Palestinian killed on Gaza border
Five Palestinian terrorists were wounded and another, killed on Monday after an explosive device planted along the Gaza border by the IDF exploded as they attempted to infiltrate into Israel.

The man killed is believed to be 24 years old.

The military has studded the security fence with explosive booby traps designed to deter in light of the upsurge in the number of attempted crossings of the border fence by Palestinians and frequent sabotaging of the security apparatus.


Since the weekly Friday protests began in the Gaza Strip under the banner of the "March of Return", dozens of attempts by terrorists have been made to damage the security fence and IDF equipment, much of which is needed for the ongoing work on a stronger security barrier being placed at the border.

Aware that the equipment and work crew constituted a target for the Palestinians, the IDF decided to lay traps for the would-be infiltrators.

In January last year, Defense Minister Avigdor Lieberman approved a budget allocating NIS 3.34 billion for the construction of a barrier on the border of the Gaza Strip and Israel, which is meant to block Hamas from tunneling underground into Israel.

In August the same year, the IDF announced that it was accelerating the construction of its subterranean barrier on its southern border.

The project is one of the biggest and most expensive undertaken and is meant to be combined with several other measures along the 64 kilometer border.

A "smart" fence—similar to the fence on the border with Egypt—with concrete walls penetrating underground, will also be able to detect tunnels and will be equipped with offensive and defensive capabilities. A concrete barrier will also be dug dozens of meters underground. Every single kilometer of the barrier costs the state NIS 41.5 million.

Earlier, Lieberman warned terror organizations in Gaza that he will not accept a daily routine of incendiary kites and balloons and fires in border communities.

"If anyone thinks we can carry on with this daily routine of kites and fires, he is mistaken," he said during a visit to an Israel Aerospace Industries factory.

Israel Air Force jets attacked nine Hamas targets in the northern Gaza Strip early Monday. The strikes hit two military bases in Jabalia, Al-Shati and a weapons production facility in Gaza City.

The IDF Spokesman's Office said the strikes were in response to the incendiary and explosive balloons and kites being launched at Israel from the Gaza Strip.

During the strike, three rockets were fired at the Hof Ashkelon Regional Council, with one apparently falling inside the strip. They were accompanied by Code Red rocket-alarms at 4:40am and again at 5:13am, with the latter one heard in the city of Ashkelon's industrial area as well.

No casualties were reported from the rockets or air strikes.

Yoav Zitun, Liad Osmo, Itay Blumenthal and Yishai Porat contributed to this report.