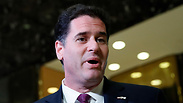 Israel's Amb. to the US Ron Dermer
Photo: AP
Prime Minister Benjamin Netanyahu has asked the government to extend Israeli Ambassador to the United States Ron Dermer's five-year tenure by another year—until September 30, 2019.

In a proposal distributed by the Government Secretariat to the ministers ahead of Sunday's cabinet meeting, Netanyahu said his request was based on "unique political circumstances in the international arena in general and in light of our relationship with the US in particular."

The government approved Dermer's appointment as Israel's envoy to the US for three years—which is the standard period of time one serves as ambassador.

Later, the government obliged Netanyahu's request and extended Dermer's tenure to a fourth year. On March 2 2017, the government decided to extend Dermer's tenure by another year until September 2018 in light of Israel's political challenges and the importance of preserving Dermer's consecutive tenure as Israel's envoy to the US.

In his recent request, Netanyahu stated he had consulted the Civil Service commissioner on the matter.

"There is no need to elaborate on the strategic importance of Israel-US relationship, in light of the ongoing significant ties-tightening since President Donald Trump had taken office, which culminated in the recent US Embassy move to Jerusalem," Netanyahu stated in the proposal submitted to the ministers.

"As part of his tenure as Israel's ambassador to the US, Mr. Dermer has wisely established a quality widespread network of connections which enables him to promote the State of Israel's main goals with the US administration and Congress," the premier elucidated.

"In light of these unique political circumstances, Dermer's tenure as Israel's ambassadoe to the US should be extended by another year, and so creating a sequence of six years to the position," Netanyahu concluded.

After helping set up Netanyahu's speech in Congress behind the White House's back, Dermer was considered a red rag by the administration of former US President Barack Obama.

Obama also accused Netanyahu of supporting Republican candidate Mitt Romney for presidency in the 2012 elections.

Dermer, however, is very close to the Trump administration and to the president's son-in-law, Jared Kushner.