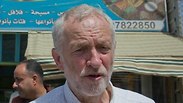 British opposition leader Jeremy Corbyn, who is visiting camps for Syrian and Palestinian refugees, said Friday that a government under his leadership would recognize a Palestinian state "very early on."
"I think there has to be a recognition of the rights of the Palestinian people to their own state, which we as a Labour Party said we would recognize in government as a full state as part of the United Nations," he said. Such recognition would come "very early on" under a Labour government, he said.
Corbyn also said the Trump administration's decision to recognize Jerusalem as Israel's capital and move the US Embassy there was a "catastrophic mistake."
On the Israeli-Palestinian conflict, he said "There has to be a peace process, and there has to be a right of the Palestinian people to live in peace, as well as the right of Israel (to live in peace)."
During a tour of the the Zaatari camp for Syrian refugees in Jordan, Corbyn appeared to be burnishing his foreign policy credentials.
Taking questions from reporters in the Zaatari market, he said that a Labour government would "work very, very hard to regenerate the peace process" in Syria. He said two parallel sets of talks about a solution for Syria would need to "come together," but did not offer specifics.
Without a solution in Syria, "the conflict will continue, more people will die in Syria and many many more will go to refugee camps, either here in Jordan or come to Europe or elsewhere," he told The Associated Press.
More than 6 million Syrians have fled civil war in their homeland, with a majority finding refuge in neighboring host countries such as Jordan. Hundreds of thousands more have migrated onward to Europe, with Germany taking in the bulk.
Corbyn said Britain could do much more to shelter Syrian refugees, particularly unaccompanied children, arguing that the government's quota of 20,000 refugees is "very, very small compared to any other European country."
On Saturday, he is to visit a decades-old camp for Palestinians uprooted in wars against Israel.
Corbyn, who unexpectedly became the Labour party head in 2015, is a supporter of Palestinian rights and a vocal critic of Israel and has repeatedly faced accusations of turning a blind eye to anti-Semitic comments in the party and among groups he supports.
In March, British Jewish groups held a street protest outside parliament against Corbyn, accusing him of failing to tackle anti-Semitism in party ranks because of a far-left world view hostile to Jews.
"He is repeatedly found alongside people with blatantly anti-Semitic views, but claims never to hear or read them. Again and again, Jeremy Corbyn has sided with anti-Semites rather than Jews," the Board of Deputies of British Jews and the Jewish Leadership Council said in an open letter late on Sunday.
In a 2009 speech, he called Hamas and Hezbollah "my friends," a statement he recanted and apologized for in 2016.
He once again got into hot water with Jews around the world when he said, "Our Jewish friends are no more responsible for the actions of Israel or the Netanyahu government than our Muslim friends are for those various self-styled Islamic states or organizations."
After the ire this statement raised, Corbyn claimed he was not drawing any parallels between Israel and the Islamic State.