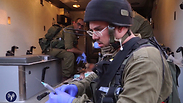 IDF forces treat wounded Syrians
Photo: Avihu Shapira
IDF worried terrorists enter Israel under cover of Syrians seeking medical aid
As Syrian President Assad and his allies continue push to recapture rebel-held areas near Israeli border, IDF is wary of pro-Iranian militia and Hezbollah fighters trying to infiltrate Israel under the guise of Syrian civilians seeking medical help in Israel's field hospitals.
The IDF has begun taking precautionary measures for fear its humanitarian efforts to assist Syrian civilians wounded in the civil war are being exploited by pro-Iranian terrorists to infiltrate Israel.

Israel takes pride in the field hospitals it set up on its northern border, which continue to provide medical care to numerous victims wounded in the fighting in Syria.

In addition to the field hospitals, the IDF Northern Command's 210th Division launched Operation Good Neighbor in June 2016, which is aimed at providing humanitarian aid to Syrians after the medical services and infrastructure in their country have been almost entirely obliterated by the carnage.

Three months ago, the IDF General Staff first discussed the possibility of Shi'ite pro-Iranian militias and Hezbollah forces infiltrating villages in the Syrian-controlled part of the Golan Heights, as well as trying to enter Israel under the guise of Syrian civilians seeking medical help.

A team in the defense establishment examined the threat and recommended to reduce the IDF's daily contact with some of the residents of the south Syrian villages, where hostile elements were identified.

A few weeks ago, IDF Chief of Staff Lt. Gen. Gadi Eisenkot instructed the Northern Command to dial up its intelligence gathering efforts in the Syrian villages near the border in an effort to thwart attempts by Hezbollah and other Shi'ite terrorists to gain control of the area and begin carrying out attacks from the border.

In addition, the chief of staff directed the Operation Good Neighbor directorate to remain alert in light of the threat and brief their medical crews and ambulance drivers on the matter.

As a result, the number of wounded Syrians arriving to the field hospitals has dropped while inspections of those coming across the border have become increasingly stricter.

The wounded Syrian civilians, who have been receiving medical treatment in Israel in recent years, are now being evacuated mostly to international hospitals set up south of Quneitra by the Evangelical-American organization Friendships Unlimited.

Last week, American media reported that the Syrian army was preparing for an assault on rebels in the area near the southwestern city of Deraa in the Golan Heights with the support of Shi'ite fighters, Iranian officers and Hezbollah terrorists dressed in Syrian army uniform. Several hundred pro-Iranian militia fighters were also reported to have arrived in the Quneitra area.

Also last week, IDF officials held talks in Israel with Lieutenant-General Vladimir Ivanovsky, the commander of the Russian Military Police Directorate in Syria—which is in charge of overseeing the implementation of the understandings and agreements between Jerusalem and Moscow on the Syrian border—about removing Iran from southern Syria.