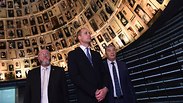 Prince William arrives in Israel
Photo: AP
Prince William: 'Yad Vashem taught me more than I thought I knew'
After long day of public engagements, including visit to the beach, soccer event with Jewish and Arab children, visit to Yad Vashem and meetings with Netanyahu and Rivlin, Duke of Cambridge attends reception at British Embassy in Ramat Gan.
Prince William began his first day of touring Israel on Tuesday morning, kicking off his three-day visit with a trip to Yad Vashem Holocaust Memorial Museum in Jerusalem, where he expressed his horror at the "terrifying" Nazi extermination of six million Jews during World War II.

The Duke of Cambridge arrived in Israel for the first-ever official visit by a member of the British royal family on Monday evening, touching down in Ben Gurion Airport where he was greeted by Tourism Minister Yariv Levin and Likud MK Amir Ohana.

His visit to Yad Vashem began at 10:15am, where he met with Holocaust survivors and, donning a Kippah, laid a memorial wreath honoring the Jews murdered in the Nazi Final Solution.

The Duke met two survivors who escaped Nazi Germany for the safety of Britain. The memorial has recognized Prince William's great-grandmother, Princess Alice, as part of the Righteous Among the Nations for her role in rescuing Jews during the Holocaust.

Prince William meets President Rivlin (צילום: אלי מנדלבאום)

He voiced his horror at the sight of shoes left behind by Jews killed in a Nazi extermination camp.

"Terrifying. (I'm) trying to comprehend the scale," he said, viewing the display.

Yad Vashem said Princess Alice "hid the three members of the Cohen family—Rachel, Tilda and Michelle—in her palace in Athens during the Nazi occupation of Greece."

It said: "Princess Alice personally saw to it that the members of the persecuted Jewish family had everything they needed, and even visited them in their hiding place, spending many hours in their company."

Thanks to her, the Cohen family survived and today lives in France, it said.

The princess died in 1969, and in 1988 her remains were brought to Jerusalem.

Prince William arrives at Yad Vashem (צילום: רויטרס, אלי מנדלבאום)

In a private 1994 visit to Yad Vashem, Prince Philip, the Duke of Edinburgh, planted a tree there in his mother's honor.

Prince William was escorted during his tour of the museum by British Chief Rabbi Ephraim Mirvis and guided by Yad Vashem Chairman Avner Shalev.

Shortly after, the prince met with Prime Minister Benjamin Netanyahu and his wife, Sara.

"We were very pleased to host Prince William on the first official royal visit to Israel by a member of the British royal family," Netanyahu said in a statement following the meeting. "We discussed many things: Our respective military service, helicopters, soccer and the World Cup."

During his meeting with the prime minister, the Duke of Cambridge also got to meet with descendants of the family his great-grandmother Princess Alice saved in Greece. Netanyahu described the moment as "very moving."

צילום: לע"מ

"I told him that he must be very proud of his great-grandmother for saving defenseless Jews. And as Prime Minister of Israel, I am very proud that Jews are no longer defenseless. We have, thank G-d, an army to defend ourselves by ourselves," the prime minister added.

Prince William then met with President Reuven Rivlin, who opened the conversation before journalists, welcoming the prince to Israel.

"It is a great pleasure and honor for us to welcome you to the state of Israel, to welcome you to Jerusalem," he began his remarks.

"You are writing a new page in history … You are the first one to come not only as a prince but also as a pilgrim to the Holy Land, Jerusalem," Rivlin continued, before praising Britain as the country that gave birth to many of Israel's laws and traditions during the pre-1948 mandatory period.

"We appreciate very much the British administration because you have left us a real great administration … because we adopted most of the tradition that you have left with us and we really appreciate the connection between our two people and two states; the cooperation, the trade between us, and the friendship," Rivlin told the prince.

While the Royal visit is supposed to be apolitical, Rivlin raised the issue of the peace process between Israel and the Palestinians, asking the prince to convey a message of peace to Palestinian Authority President Mahmoud Abbas when he visits Ramallah in the coming days.

"I know that you are going to meet with President Abbas. I would like you to send him a message of peace and tell him that it is about time that we have to find together the way to build confidence as a first step to bringing an end to the tragedy between us that has gone one for more that 100 years," Rivlin said before sending his regards to the Royal Family.

Speaking after the president, Prince William opened his remarks by expressing his gratitude for the reception he had received.

Prince William at coexistence soccer event in Jaffa (צילום: ניצן דרור)

"I thank you for your warm welcome. It's my first visit to Israel and I'm very much looking forward to getting to meet as many Israelis as possible," Prince William began, adding that he is looking forward "to really absorbing and understanding the different issues, the different cultures, the different religions."

He also said that he is "very much looking forward" to seeing the Old City in Jerusalem.

"I had a very moving tour around Yad Vashem this morning, which really taught me quite a lot more than I thought I knew about the true horrors of what happened to the Jews during the war." he said in a humble confession.

"I, like you, look forward to understanding lots about the region and about hoping that peace in the area can be achieved," the prince added.

The two went on to speak in private, following which they went out for a stroll in the Presidential Garden to look at plants and trees from across Israel.

President Rivlin then presented Prince William with a moving and historic gift from the archives of the Yad Ben-Zvi Museum: a copy of an album of photographs taken between 1850 and 1865 by Elizabeth Ann Finn, wife of the then British Consul in Jerusalem.

During this period, Prince Edward (who later became King Edward VII), the Duke of Cambridge's great-great-great-grandfather, visited the Holy Land. The album included pictures of Edward's visit in 1862, and a moving description of the welcome he received as published in the Magid Newspaper in an article written by President Rivlin's great-grandfather, Yosef Rivlin, one of the leaders of the Jewish community in the Holy Land.

"One day you will be King of England, and I hope you will visit Israel once again, with your wife and children, and be able to fill for yourselves an album of happy memories in this land," Rivlin told the prince.

The Duke of Cambridge had a gift of his own for President Rivlin—a Liverpool FC shirt, signed by club legend and former team captain Steven Gerrard. Rivlin is a Liverpool fan.

On Tuesday afternoon Prince William travelled to Jaffa to "meet with young people involved in the work of two organisations focused on co-existence between the young people of different religious and ethnic communities—the Equaliser and the Peres Centre for Peace," an official statement says.


He arrived at a soccer event hosted by the two charities and spent time with children and teenagers involved in several of their projects, including one focused on empowering young women.

He played soccer with the children, missing one penalty kick and scoring on his second try.




Prince William's next stop was a visit to Frishman beach in Tel Aviv together with Mayor Ron Huldai. There he visited the lifeguard's station and watch a beach volleyball game.

The prince and Mayor Huldai spoke at length during His Royal Highness' visit to Fishman beach, with the Duke of Cambridge telling the mayor he regrets not having brought his swim suit along upon seeing the beach.

The two also spoke about the city of Tel Aviv, the fact they are both pilots, and the sunny weather.

Prince William visits Tel Aviv beach (צילום: קונטקט)

The Duke of Cambridge also shook the hands of the screaming beachgoers who were stunned to see him and spoke to some of them.






Speaking at a reception at the British Embassy in Ramat Gan in the evening, Prince William once again brought up his visit to Yad Vashem, saying it was "a profoundly moving experience."

"This morning I went to Yad Vashem on my first official engagement. It was a profoundly moving experience. It brought back powerful memories of the visit my wife Catherine and I made last year to Stutthof concentration camp," the prince said.


"As I wrote in my message at Yad Vashem, we must never forget what was perpetrated against the Jewish people in the Holocaust. I am well aware that the responsibility falls now to my generation to keep the memory alive of that great crime as the Holocaust generation passes on. And I commit myself to doing this," he vowed.

During his visit to Israel, High Royal Highness will visit his great-grandmother Princess Alice's grave. "Her story is a matter of great pride for my whole family," the prince said, adding "the gift I received today from you, prime minister, of a copy of the medal presented in her honor by Israel is something my family will treasure—thank you."

Prince William also discussed Israel's past and future. "From the early stories of the kibbutzim; to the revival of Hebrew as a living, modern language; to the hi-tech economies that we see around us here in Tel Aviv—the modern story of Israel is one of inventing, creating, innovating, and striding confidently into its future," he said.

"I saw part of this future this afternoon when I met boys and girls from different communities, brought together by their love of football. And I got a flavor today of the unique character of Tel Aviv, its flair and diversity—and its beach. A beautiful city," the prince added.

"And tomorrow I will meet more young people from around the country, working on the environment, mental health and helping the less fortunate. These young people are painting a bright future for Israel, bringing their own energy and creativity to the Start-Up Nation. These young people are also a reminder of how much we have in common—two open societies which thrive on innovation, diversity, talent and excellence," William continued.

Finally, he addressed the Middle East at large, noting "This region has a complicated and tragic history—in the past century the people of the Middle East have suffered great sadness and loss. Never has hope and reconciliation been more needed. I know I share a desire with all of you, and with your neighbours, for a just and lasting peace."

"The United Kingdom stands with you, as we work together for a peaceful and prosperous future," he concluded.

During his remarks, the Duke of Cambridge also delighted the 350 guests at the reception with some Hebrew, beginning his remarks with "Erev tov lekulam" ("Good evening everyone") and ending them with "Toda raba" ("Thank you very much").

"I am afraid that that is the extent of my Hebrew, but I am delighted to be here in Israel," he added.

Prince William with PM Netanyahu and Sara Netanyahu

On Wednesday, William will visit the Beit Ha'ir Museum and meet with representatives of leading Israeli start-up companies and watch a presentation on Israeli innovation. He will also meet with young activists, both Jewish and Arab, who are involved with youth, education and social programs. He is also expected to attend a cultural event, which has yet to be announced, in the city as well and not leave before paying the beach a visit.
Visiting the 'occupied Palestinian territories'
The Prince's official schedule for Wednesday lists him going to the "occupied Palestinian territories." William will visit Ramallah and meet Palestinian Authority President Mahmoud Abbas.
There, he will attend an event focusing on Palestinian refugees and "celebrate Palestinian culture, music and food; and a chance to meet a number of young Palestinians. Full details will be announced during the visit," the statement said.
At night he will deliver a speech at a reception at the home of the American Consul in Jerusalem.
Thursday's schedule could cause controversy, with Kensington Palace announcing that the "programme in the Occupied Palestinian Territories will begin with a short briefing on the history and geography of Jerusalem's Old City from a viewing point at the Mount of Olives. From here His Royal Highness will travel a short distance to the Church of St Mary Magdalene where he will pay his respects at the tomb of his great-grandmother, Princess Alice."
Inbar Tvizer, Itamar Eichner, Reuters and Associated Press contributed to this report.