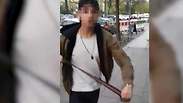 Syrian attacks Israeli in Berlin
Photo: Jewish Forum for Democracy and Against anti-Semitism
Syrian who attacked Israeli Arab in Berlin gets off easy
Adam Armush, an Arab-Israeli, strolled Berlin's streets wearing a kippah to see if it was indeed dangerous for Jews, he was assaulted by a Syrian migrant, who in turn was sentenced to only a month in jail; Jewish community condemns sentence as 'a joke.'
BERLIN - A German court on Monday sentenced a Syrian migrant who carried out an anti-Semitic attack on a man wearing a kippah to four weeks detention and required him to visit a museum to learn about the history of anti-Semitism in Germany.

The court in Berlin ruled that the 19 year old had used a belt to hit an Israeli Arab who was wearing a kippah in Berlin as an experiment. He was convicted of insult and grievous bodily harm.

Video of the attack caused a public outcry in April when it was posted on the internet. Anti-Semitism remains a sensitive issue in Germany after more than 6 million Jews were murdered during the Nazi-era Holocaust.

Syrian anti-Semitic attack Berlin (צילום: הפורום היהודי נגד אנטישמיות)

The court decided to apply juvenile criminal law - which it can decide to do up to a maximum age of 21 - because the man was lacking in maturity, said court spokeswoman Lisa Jani.

She added that four weeks was the maximum detention under juvenile criminal law and because the Syrian had already spent 2-1/2 months in detention, his detention counted as served so he was released on Monday.

As part of his sentence he is required to take part in a tour of Berlin's House of the Wannsee Conference, where the Nazis held a conference in 1942 that laid out the "final solution" - their plan to exterminate the Jews.

"The court wants to make clear that his attitude towards Jews will not be tolerated here," Jani said.

She added that the man - who was born in Syria and has a Syrian passport but considers himself Palestinian - would also be given one year of support services, which could include help in finding an apartment and an apprenticeship.

The Jewish community was not satisfied with the ruling.

Sigmount Koenigsberg, the Jewish community in Berlin's anti-Semitism commissioner, told Berlin-based broadcaster 105'5 Spreeradio that the ruling was "an absolute joke".

"A few weeks of detention, which have already been served, are not appropriate. The man is laughing himself silly," Koenigsberg said.