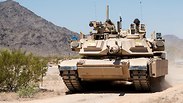 Trophy defense system for tanks
Rafael Advanced Defense Systems announced Tuesday that a $193 million sales agreement was signed whereby the US military will purchase its Trophy active defense system for tanks and armored personnel carriers.

The deal was signed between Rafael and US-based defense contractor Leonardo DRS which will supply the American military with the systems, to be installed on the M1 Abrams battle tank; they will be manufactured in the US and Israel.

Trophy active defense system (צילום: באדיבות משרד הביטחון)

The Trophy, developed jointly by Rafael and Elta Systems, is the only active defense system for armored vehicles in the world. it has been successfully tested under operational conditions and offers troops survivability and maneuverability capabilities.

The system is installed on hundreds of ground combat platforms in the IDF, including Merkava Marks 3 and 4, as well as the Namer armored personnel carriers. The product is currently under supply contracts to be installed on more than 1,000 IDF platforms. The system has already proven its defense capability against anti-tank missiles and other threats.

Trophy consists of sensors that detect and classify the threat and its precise location. Next, the system launches a countermeasure to intercept the threat. Date regarding the position of the attacker is transmitted by the Trophy system to field forces in order to decisively neutralize the threat.

Since its first battlefield interception in March, 2011, the system has proven itself numerous times, especially during Operation Protective Edge in Gaza.

"(The contract) is the culmination of years of intensive work by government-backed industries to protect US military fighters and address critical capacity gaps in its armored configuration," said Aaron Hankins, vice president and general manager of Leonardo DRS' Land Systems.

"Rafael has been providing defense solutions to the US Army for more than two decades with passive protection for vehicles such as the Bradley, Stryker and AAV7, and we are proud to continue to do so with the 'Trophy' system," said Moshe Elazar, deputy CEO and drector of Rafael's Land and Sea Division.