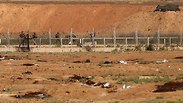 A 17-year-old Palestinian was killed by an IDF tank shell while approaching the border fence in the Gaza Strip overnight, Palestinian sources reported Thursday afternoon.

The tank fired at the teen after spotting two terrorists crawling towards the border fence in an attempt to infiltrate Israel from the southern strip.

The IDF said the tank fired at the terrorists and thwarted the infiltration attempt. Molotov cocktails were found in the area.

On Wednesday evening, three Palestinians were shot by IDF soldiers near the Gaza border after the army "spotted the terrorists damaging the fence and trying to infiltrate into Israeli territory from southern Gaza," according to the IDF Spokesperson's Unit.

The incident, which took place east of Rafah, left the Palestinians wounded. Their condition was not immediately clear.

"The forces responded with fire against the terrorists and prevented an infiltration," the IDF statement said.

Palestinian media initially reported that four people had been injured.

Earlier in the day, the IDF fired at a group of Palestinians who tried to breach the border with Israel near Kibbutz Mefalsim.

A 15-year-old Palestinian teen was seriously injured and evacuated to the Barzilai Medical Center in Ashkelon for treatment. His condition was described as critical.

Earlier Wednesday, the joint military branches of all terror organization in Gaza took responsibility for rocket fire on the Gaza border region Tuesday night, which they claim was in response to an Israeli attack on a Hamas militant's vehicle.

"A bombing will be answered with a bombing," a statement issued from the strip said, adding that they are ready to retaliate immediately to any Israeli military provocation.