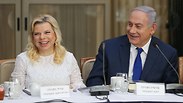 Sara and Benjamin Netanyahu
Photo: Alex Kolomoisky
Peres had a million times more food, Sara Netanyahu tells investigators
Transcripts from her testimony in the 'residence affair' reveal the prime minister's wife said it was a 'disgrace' that the police were 'investigating what the prime minister ate,' accused former caretaker Meni Naftali of ordering many takeout trays to the PM's residence and then taking them home.
Prime Minister Benjamin Netanyahu's wife Sara accused Meni Naftali, the former caretaker at the Prime Minister's Residence, of mishandling food ordering and compared her husband to previous prime ministers when questioned by the police in the "residence affair" in which she was indicted two weeks ago, Channel 10 reported Saturday evening.

According to the report, Sara Netanyahu told her investigators: "Meni Naftali didn't want anyone to cook and he wanted Ofra the cook to be fired, so he could order precooked food from outside. He ordered a lot of takeout trays. I once passed through the kitchen and saw piles of takeout trays. I asked Meni, 'Who needs all that?' He replied, 'Don't worry, everything's okay.' It probably went to Afula (Meni Naftali's hometown)."

She lashed out at the police, "It's a disgrace that the Israel Police are investigating what the prime minister ate. President (Shimon) Peres had a million times more food, of better quality and tastier, and he had two girls who served it. It was dignified and it's perfectly okay."

Sara Netanyahu is suspected of ordering private meals worth some NIS 350,000 (roughly $96,600) from high-end restaurants with the state footing the bill, although a cook had been hired to prepare the meals at the residence. She was charged with fraudulently obtaining benefits under aggravated circumstances, fraud and breach of trust.

The prime minister's wife was suspected in another affair, involving waitresses who were illegally hired to serve the Netanyahu family and its private guests throughout the week, as well as on weekends. Eventually, the attorney general decided to only indict former Deputy Director-General of the Prime Minister's Office Ezra Saidoff in that affair.

Transcripts from Sara Netanyahu's police testimony published by Channel 10 on Friday evening revealed harsh accusations against former Prime Minister Ehud Olmert's wife.

Investigators pointed out that during Olmert's term waiters were employed two or three times a week, yet during Prime Minister Netanyahu's tenure, two waiters were at times employed per day, even when there were no guests at the official residence.

"I didn't know changes had been made in our conditions. If that's the case, I see it as an inequity. You are discriminating against us," Mrs. Netanyahu responded. "Those who wanted to make a change—not to have waiters in the residence during Netanyahu's tenure—acted out of malice and wanted to deliberately harm Prime Minister Netanyahu."

She also rejected claims Olmert's use of waiters was justified as he held many work meetings at the official residence. "Olmert had many friends at the residence on Fridays at the expense of the state. Prime Minister Netanyahu has almost no (personal) friends on Fridays. The prime minister, his wife, and sons are the only ones to attend dinners at the residence. Prime Minister Netanyahu is the one that works until the small hours of the night holding work meetings to promote the state's best interest," Mrs. Netanyahu insisted.

"Prime Minister Netanyahu doesn't invite friends to (look at) paintings, for which the prime minister's wife receives huge amounts of money since her husband is also the Ministry of Economy. It appears the police prefer to ignore those facts. I have seen documents showing Mrs. Olmert paid for transportation and guest rooms using state funds," she went on to say.

In the residence affair, Sara Netanyahu insisted to police investigators that her family does not eat gourmet food from high-end restaurants and that she is accustomed to eating modest food in small portions.

"I was labeled as a duchess, but it's a lie. I eat schnitzel at home, I eat homemade modest food. Gourmet food is not served at the prime minister's residence. The prime minister and his wife don't demand royalty food. Does it make sense to prepare ptitim (a type of toasted pasta shaped like rice grains developed during the austerity in Israel) when I ask for fish? Why do I deserve eating ptitim?" Mrs. Netanyahu told police.

Mrs. Netanyahu went on to claim she considers herself "a person who acts according to the law and does what is allowed in line with the protocols. I was told we are entitled to all the things our predecessors have been entitled to before us. It's good you didn't say I'm a 'delicate European.' Those words have never come out of my mouth. Since Meni Naftali, I've been trying to cut expenses. We practically live under an austerity regime. I didn't appreciate Meni's squandering. I'm a very modest person who doesn't like to waste money. I asked to order less takeout to avoid throwing away food."