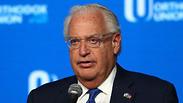 David Friedman
Photo: Ohad Zwigenberg
The United States Ambassador to Israel David Friedman is expected to host a ceremony next Wednesday at his Herzliya residency honoring the LGBT community in Israel.

The black tie event's invitation says the ceremony will emphasize the Pride Parades in Tel Aviv and Jerusalem.

The announcement comes as a surprise to the LGBT community since Friedman is considered to subscribe to a more religious outlook and is known to hold more conservative views.

The event is scheduled to take place just over a month after the Gay Pride Parade in Tel Aviv and around three weeks before the parade in Jerusalem in August.

Previous US ambassadors have also hosted similar ceremonies. However since Friedman took took office, the relationship between the two sides has cooled, according to sources in the LGBT community.

Last year a similar event was held outside the embassy and was attended by the representatives of the LGBT community and the ambassador's deputy. Friedman's attendance, therefore, was further welcomed by the community's veterans.

One senior LGBT member commented on the unexpected invitation.

"During Barack Obama's tenure, Gay Pride events had been conducted but a ceremony which celebrates Pride Marches, and especially the one in Jerusalem, is very good news for us," he said.

"Hosting an event like this before the Jerusalem Pride March is an important statement ... We thank the ambassador for his openness and willingness," concluded the senior member.