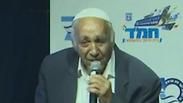 Education conference speaker: 'Building a house equals 100 dead Arabs'
Speaking at an Education Ministry conference, prominent land dealer Moshe Zar explains Jewish construction in the West Bank is 'our sweet revenge' for terror attacks, adding, 'building a community equals to eliminating 10,000 gentiles.'
Speaking at an education leaders' conference earlier this week, prominent land dealer Moshe Zar received roaring applause when he asserted that "Building a house equals to eliminating 100 Arabs, building a community equals to eliminating 10,000 gentiles."

Zar, a prominent land dealer from Karnei Shomron, was a member of the Jewish Underground and was convicted of terror offenses. In 1980, he was the driver of a terror cell that was responsible for a bombing that cost then-Nablus mayor Bassam Shakaa his leg. In 2015, Zar expressed regret for his actions, and stressed he was against "price tag" hate crimes.

Zar's son, Gilad was murdered in a terror attack in 2001. Zar later purchased land in the West Bank where he built Havat Gilad in his son's memory.

He asserted that building settlements is "our sweet revenge" for terror attacks that claimed the lives of Jews.

"Our revenge, of all of us, will be by settling the land of Israel," he added in reference to the terror attack that claimed the life of Rabbi Raziel Shevah at Havat Gilad.

The conference, held at the International Convention Center in Jerusalem, was attended by Education Minister Naftali Bennett and the ministry's Director General Shmuel Abuhav, along with school and kindergarten teachers, advisors, and supervisors. Rabbi Eli Sadan, who founded the Bnei David pre-military academy, Rebbetzin Hannah Henkin, Rabbi Uri Sherki, Rabbi Yuval Cherlow, Rabbi Dov Zinger, and Maj. Gen. Yaakov Amidror were also in attendance.

The conference was held for the eighth consecutive year under the banner of "Talking about Jewish family values in 2018, education for healthy sexuality, modesty, feminism and Zionism."

The Education Ministry offered the following comment: "The Education Ministry and the head of the religious education administration harshly condemn Moshe Zar's grave remarks, which reflect his own opinion."

"The remarks were inappropriate and don't reflect the Education ministry's policy and spirit. The ministry works tirelessly to promote all sectors of Israeli society, including the Arab sector."

Moshe Zar issued a statement saying, "My remarks referred to Arab terrorists who murdered my son Gilad, Rabbi Raziel Shevah, and thousands of other Jews. I've been coexisting with Arabs since the day I was born, believing that mutually living in peace is possible."