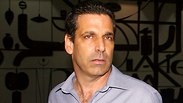 Gonen Segev
Photo: Yariv Katz
Former Israeli minister gave Iranians 'dozens of reports to harm state security'
Court declassifies snippets of indictment served last month against Gonen Segev, who spied on Israel for Iran; charged with a string of espionage-related offenses, indictment notes how the former Security Cabinet member acted as an Iranian intelligence agent 'to assist Iran in its war against Israel.'
The former Israeli minister, Gonen Segev, who was charged last month for spying on the State of Israel for Iran, "transferred dozens of reports with the intention of harming state security," according to the indictment which was partially declassified on Wednesday.
Segev, whose trial is set to begin on Thursday, was charged with espionage, aiding an enemy in war time, as well as providing information to the enemy.
The former minister, who had been working for years in Nigeria as a doctor, has remained in police custody since he was refused entry into Equatorial Guinea in May 2018 because of his criminal past and consequently transferred to Israel.
The Jerusalem District Court lifted a gag order on Wednesday on some of the content of the indictment that was served against Segev. However, various details were censored due to their sensitivity for state security.
The indictment emphasizes that Segev, who was once a member of Israel's Security Cabinet, transferred to the Iranians "dozens of reports with the intention of harming state security."
The majority of the details in the indictment remain classified, including some 50 articles detailing the matters in which Segev obtained information and carried out various assignments.
"In his acts that are described above, the defendant acted as an Iranian intelligence agent and as part of his activities he carried out many acts designed to assist Iran in its war against Israel," the indictment states.
"The defendant also passed on to the Iranians secret reports in order to harm state security, inter alia, about the location of security officials' compounds, names of security personnel and more," it continues.