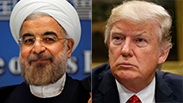 President Hassan Rouhani and President Donald Trump
Photo: Reuters, AP
US sanctions against Iran are a "crime and aggression", Iranian President Hassan Rouhani said on Wednesday as he called on European governments and others to stand up to US President Donald Trump's policies against Tehran.

"Iran will survive this round of US sanctions as it has survived before. This US government will not stay in office forever ... But the history will judge other nations based on what they do today," Rouhani said during a visit to Vienna.


Rouhani vowed that Tehran would stand firm against US threats to cut Iranian oil sales, and warned that Washington had not thought about the consequences of such a decision.

"The Americans say they want to reduce Iranian oil exports to zero. They have talked without thinking carefully. It shows they have not thought about its consequences," Rouhani was quoted as saying by state news agency IRNA.

Rouhani was in the Austrian capital to discuss with Chancellor Sebastian Kurz issues including salvaging the Iran nuclear deal after the US decision to withdraw and reinstate sanctions on Tehran.

The Iranian president's defiant posture comes days after he promised his citizens that the government would be able to handle the economic pressure of new US sanctions, a day after traders massed outside parliament, protesting against a sharp fall in the value of the national currency.

"Even in the worst case, I promise that the basic needs of Iranians will be provided. We have enough sugar, wheat, and cooking oil. We have enough foreign currency to inject into the market," Rouhani said in a speech broadcast live on state television.

Rouhani said the fresh US sanctions were part of a "psychological, economic and political war", adding that Washington would pay a high price for its actions.

"Withdrawal was the worst decision he (Trump) could make. It was appalling. It hurt America's global reputation," he said.