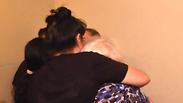 South's residents rushing to bomb shelters
Photo: Roee Idan
Citizens suffering PTSD to be recognized as terror victims
National Insurance Institute expands criteria for recognizing citizens suffering from the disorder, arguing it can be triggered by cumulative shocks caused by witnessing and experiencing terror attacks, particularly in the south; victims will now be entitled to financial aid and mental support.
In the wake of changes in the National Insurance Institute's procedures, it has recently been decided that citizens suffering from post-traumatic stress disorder (PTSD) as a result of the deteriorating security situation will be recognized as terror victims, even if no specific incident can be identified as having caused their suffering.

The changes will include indirect casualties whose requests so far that the state recognize their mental anguish were refused, excluding them from financial benefits and support services.

In light of the new changes, Gaza border community residents who suffer from PTSD due to prolonged periods of time livings under the south's security threats will also be recognized as terror victims and will be entitled to receive aid.

The change in procedure comes after over a yearlong campaign led by Knesset member Haim Jelin (Yesh Atid), a Gaza border community resident who served in the past as the head of the Eshkol Regional Council.

In July 2017, a bill sponsored by Jelin on the matter passed its preliminary reading in the Knesset. Following its passage, authorities updated the form required for submission to the National Insurance Institute when a person seeks recognition as a terror victim.

The new form now states: "In cases of (mental) damage caused as a result of numerous security events and an unusual accumulation of damaging incidents over a short period of time, please state the length of the period of time in question, the way in which you were harmed or your involvement in the incident and explain why this sequence of events is unusual in comparison to other periods in your life."

MK Jelin explained that amid the multiple security incidents that take place in the communities surrounding the Gaza Strip, psychiatric evaluations show that there are situations a person could still be mentally affected by the incidents he or his family experienced without being directly involved in a specific terror attack.

Jelin argues that in light of the mental damage inflicted upon citizens residing in the Gaza border communities—many of whom are children who had difficulty identifying a specific Code Red siren or a specific incident that triggered the damage—an amendment to the National Insurance Institute's criteria to receive aid is required.

The MK also added that at times people were required to make up the dates of incidents to receive recognition as terror victims.

"Terror victims are not only those who were hurt during a specific terror attack. Terror victims are the ones born to the sounds of sirens, to rushing to bomb shelters," Jelin said.

"For example, nobody knows this but a war is going on between Egypt and ISIS. Anyone who lives on the border can hear it. At times there is fear of infiltrations. These things are continuous and it's hard to say exactly what happened on a certain day," the MK elucidated.
A rise in PTSD cases
A psychiatric evaluation showed an increase in PTSD cases in southern cities which are manifested by symptoms of anxiety and depression.
The evaluation determined that PTSD symptoms may develop following the accumulation of repeated incidents and not merely as a result of a specific incident.
In addition, PTSD does not evolve only in cases involving a direct threat to a person's life, the evaluation concluded. Merely witnessing a life-threatening incident several times can trigger the symptoms.
The National Insurance Institute's Director General Meir Spiegler said, "The change we made in the claim form accommodates the need of residents living in communities who are subjected to frequent rocket barrages to exercise their rights when suffering from an ongoing mental trauma.
"This step is part of a general organizational move we work tirelessly on to promote the full exercise of civil rights which the citizens are not always aware they deserve," the director general explained.
The Victims of Hostilities Department's Director at the National Insurance Institute Osnat Cohen added that the form had been changed due to heightened awareness of the residents' anguish. "We've altered the form out of the understanding no one would have wanted to switch places even for a split second with the south's residents who don't know what will happen next," she said.
"We've attempted to simplify things for them and remove the demand that they point to a specific day or time when they experienced a trauma since some situations are ongoing and the residents of the south have been experiencing them for 15 years—barrage of rockets after barrage," she went on to say. "One day someone can cope with the difficulty and trauma and the next day they can fall apart."
Cohen described one of the cases which provided an impetus behind the agency's decision to alter its requirements on the matter. "We had a case of a woman living in Sderot whose son worked near a supermarket where rockets fell. She was worried sick. She filed the form claiming she had experienced trauma which we rejected since she wasn't considered to have been part of the incident," Cohen recalled.
"Unfortunately, an additional fall occurred in the vicinity of her daughter's place of work," she continued. "She filed the claim form for the second time which we also rejected. The third time she filed the form was when a rocket landed in her porch.
"We rejected her third claim since her trauma was caused by previous events. Her case had come to my attention and I said it's unheard of. We approved her claim. It was a classic case of ongoing trauma that will be recognized from now on," Cohen concluded.