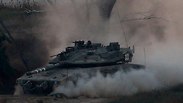 IDF attacks military post in Syria after errant mortar fired toward Israel
Mortar shell—fired during fighting between President Assad's forces and Syrian rebels—lands in buffer zone between two countries; IDF stresses it has no desire to become involved in internal fighting but reiterates commitment to honor 1974 Separation of Forces Agreement.
The IDF struck a Syrian military outpost on Friday afternoon after a mortar shell was fired from it at Israel. The projectile landed in the buffer zone east of the border fence between the two countries.
The errant mortar shell was part of the internal fighting in the ongoing civil war between President Bashar Assad's regime and rebels fighting to overthrow him.
The Syrian army claimed the IDF targeted a hill in the vilage of Khan Arnabah, which is in the Quneitra Governorate, noting there were no casualties.
The IDF Spokesperson's Unit issued a statement reiterating that the military remains uninvolved in the war ravaging Syria and will continue to honor the 1974 Separation of Forces Agreement that includes preserving the buffer zone.
South Syrian rebels said on Friday they had agreed to cease fire and start handing over heavy weapons in a deal mediated by Russia that will restore state sovereignty over areas they hold in Deraa province after a fierce government offensive.
A commander in the regional alliance supporting Assad had earlier said government forces were advancing through rebel territory along Syria's frontier with Jordan and would soon reach the countries' main border crossing.
With the help of Russian air power, the government's assault has swept into swathes of Deraa over the past two weeks, shrinking one of Syria's last rebel strongholds.
The rebels said the deal was brokered by Russia and would allow both fighters and civilians in opposition areas to settle their status with the government under Moscow's protection.
Rebels who did not wish to come back under Assad's rule would leave for the insurgent stronghold in northwest Syria, they said.
The commander in the pro-Assad alliance told Reuters the army and its allies had seized a string of villages and reached the border. "Within a short period of time, they will reach the (Nassib) crossing," the non-Syrian commander said, speaking on condition of anonymity.
Several witnesses along the Jordan border fence with Syria said they spotted armoured vehicles and a tank with a Russian flag heading to the Nassib crossing, a vital trade artery.
Israeli leaders have sent a series of messages making clear that they expect Assad and his Iranian-backed allies to honor a decades-old agreement that sets out a demilitarized zone along the frontier and limits the number of forces each side can deploy within 25 kilometers (15 miles) of the zone.
"We have a Separation of Forces Agreement with Syria from 1974," Prime Minister Benjamin Netanyahu declared this week. "This is the guiding principle. We will adhere to it very strictly and so must others, everyone."
Public Security Minister Gilad Erdan told Ynet on Thursday that "We must verify and do everything to clarify, vis-a-vis the Russians, the Assad government, that we will not accept any armed presence by the Assad regime in the areas which are meant to be demilitarized."
Asked if Israel was prepared to take preventive action against the Syrian military, Erdan said: "Unequivocally, yes."
IDF Chief of Staff Lt. Gen. Gadi Eisenkot received a military briefing in northern Israel on Wednesday during a visit to the 366th Division in the Golan Heights as President Assad's army continues its campaign to reclaim the last rebel-held strongholds in southwest Syria.
Associated Press and Reuters contributed to this report.