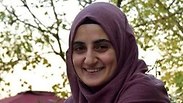 Turkish national indicted for trying to launder money for Hamas
27-year-old Ebru Ozkan, arrested last month at Ben-Gurion Airport, is charged with unlawful associations, crimes against public order for Hamas and offenses of bringing enemy funds into the area, which include smuggling five bottles of perfume to launder money.
A Turkish national who was arrested a month ago at Ben-Gurion Airport was indicted by the Military Advocate General on Sunday in the Samaria Military Court for several security offenses.

The defendant, 27-year-old Ebru Ozkan, was charged with unlawful associations, crimes against public order for Hamas and offenses of bringing enemy funds into the area.

According to the indictment, in 2016 the defendant decided to visit Israel as part of an organized tour. During her stay at the Istanbul Airport, a tour guide named Mohammed Samer approached her and asked to take15 bottles of perfume he had with him into Israel , as a way to launder money for Hamas.

The military advocate general claims the defendant complied with the request and took the perfume to her hotel room, where it was taken from her by an unidentified man a day later.

"In doing so, the defendant performed a service for the Hamas organization which in itself is an unlawful association," emphasized the indictment.

Between March , 2016 up until her arrest in June of 2018, the defendant worked as a secretary at a research center in Turkey, along with several Hamas activists.

Ozkan informed the activists of her intentions to visit the the Al-Aqsa Mosque in Jerusalem, according to the indictment.

One of the employees in the center, Abd al-Latif-Sada, asked Ozkan to transfer a deposit to his friend who lives in the area, and the defendant, according to the military advocate general, complied with his request as well.

Two days later, Abd al-Latif-Sada gave the defendant a leather wallet and a phone charger, which he told her to put in her luggage. He also instructed her not to say anything about the device to Israeli security guards if she was asked upon arrival, other than that it was purchased in Turkey.

Ahead of her flight, Ozkan was given $500 and the details of a friend who was waiting for her in Israel. Abd al-Latif-Sada asked her to give his friend the money with the words: "The chocolate from your friend, to whom you gave the money."

At this stage, according to the indictment, it was clear to the defendant that illegal activity, harmful to the security of the region, was taking place.

Ebru Ozkan arrives in court (צילום: שמיר אלבז)

After her arrival in Israel, Ozkan contacted Abd al-Latif-Sada's friend. Unable to arrange a meeting, she returned to Turkey with the device.

In June 2016, the research center Ozkan worked at was moved to a different location but she stayed in contact with Abd al-Latif-Sada.

In August of that year, Abd al-Latif-Sada left the center. At the end of 2017 he called her and asked her to check whether his friend, a Hamas activist, was attending a conference in Turkey, telling her that he would like to meet with him. At that point, the indictment states, Ozkan understood that Abd al-Latif-Sada himself belongs to the Hamas terror organization.

A month before her arrest, the defendant was contacted by Abd al-Latif-Sada, who asked her to meet with him. During the meeting, he once again asked her to transfer money to his friend when she visited Israel.

Ozkan agreed but insisted she would transfer the money through a bank, a decision which al-Latif-Sada explained could not work.

The indictment say the defendant was eventually given $500 for a transfer and another $100 for her services. The money was eventually brought into the country by her sister.

The defendant was arrested by the police shortly before her departure from Israel back to Istanbul.

In response to the charge, her lawyer Omara Khamaisi told Reuters outside the court: "Come on, really? I think that in this the case the decision will ultimately be a brave one—to release her, I hope."

Khamaisi said Ozkan had been denied access to legal counsel for most of her detention and had not been interrogated in Turkish, leading to distortions in the way her answers to questions were recorded.

Alif Ozkan, Ebru's older sister, says the defendant was jailed without concrete evidence or documents proving her guilt.

"We couldn't contact our sister. We couldn't even call her. Even her attorney wasn't able to talk to her despite the fact that he was in court. She was jailed illegally. This is a violation of her human rights. It's an arbitrary detention. Israel did it for political reasons," she said.

Asked about Ozkan's case on Friday, Turkish Foreign Minister Mevlut Cavusoglu referred to her as "our sister" and accused Israel of "taking deterrent measures against our citizens travelling to Jerusalem."

"However, we will retaliate against this. Our relations will normalize when Israel stops its inhumane policies," he said without elaborating.

Israeli-Turkish relations have lately been on a decline, and in May 2018 Turkish foreign ministry summoned Israeli Ambassador Eitan Na'eh and ordered him to leave.

One day before the incident, Turkey announced she recalls its ambassadors from Israel and the United States, and declared three days of morning in the country following the deaths of 61 Palestinians during the protests in the Gaza Strip.

Reuters contributed to this report.