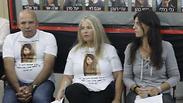 Flash flood victims' parents
Photo: Shaul Golan
Parents of flash flood victims demand independent inquiry
Parents decry the fact commission of inquiry formed by Education and Defense ministries is about to complete its work without inviting any of them to give testimony; 'There is an entire system here that is simply criminal, irresponsible, and negligent,' accuses Sharon Sadan, Yael's mother.
The parents of the ten teenagers who lost their lives in the Negev flash flood on Monday demanded an independent commission of inquiry to examine the series of failures that led to the disaster.

Because the pre-military academies are budgeted by both the Education and Defense ministries, the two ministries established a joint commission to examine the supervision of such academies' field trips.

Before the disaster, pre-military academies' field trips were not under the supervision of the Education Ministry's situation room, which accompanies all field trips in Israeli educational institutions.

But Rotem Bar-Shalom, Ilan's mother, decried the fact the existing inquiry commission is about to finish its work "without inviting any of the parents to give testimony or his opinion on the matter."

During a press conference convened by the parents, Sharon Sadan, Yael's mother, said that "There is an entire system here that is simply criminal, irresponsible, and negligent. Two and a half months have passed and still no government official has reached out to us and offered support or assistance."

"All of these officials will answer (for their part in the disaster), because we will not remain silent. Not just to prevent another disaster, but to change everything that's going on in this country," she vowed.

Yael Cohen, Romi's mother, wondered why no one has taken responsibility. "It's been two and a half months. We understand there is a whole group of responsible bodies: But where's the state? Where's the Education Ministry? Where's the Defense Ministry? They each throw the responsibility at the feet of the other. We won't allow it to keep happening," she said.

Itzik Or, Ella's father, added, "Our precious children perished in a terrible disaster caused by a horrible failure—this cannot happen again."

Other parents stressed they won't stop fighting under an independent inquiry commission, led by a retired judge, exhausts all processes and reach binding conclusions vis-a-vis those responsible.

On April 26, nine teenage girls and one teenage boy were killed when they were caught unaware by a flash flood in the Zafit Stream in southern Israel. The teens were on a trip organized by the Bnei Zion pre-military academy, where they were meant to start studying in September.

The academy's principal, Yuval Kahan, is under police investigation on suspicion of negligent homicide, while one of the academy's instructors, Aviv Bardichev is suspected of manslaughter. Kahan has since resigned.

Attorney Eli Zohar is providing the families with legal counseling. "I accompanied all of the inquiry commissions in Israel since Agranat. I don't think there was a bigger disaster than this that didn't end with a commission of inquiry," he said. "The commission's goal is to find out who is responsible and who will be responsible from now on."

He read out a message to Prime Minister Benjamin Netanyahu on behalf of the families: "Today you'll receive letters from each family sitting here. In them, we'll tell you about the son and daughters we lost in the Bnei Zion academy disaster. On their behalf and on ours, we ask you to establish an independent commission of inquiry headed by a retired judge to examine all of the reasons for this terrible disaster."

"We ask you to meet with us and grant our request. We will do everything—and it's important that you too as a prime minister will do everything—to make sure this disaster never happens again," Zohar said on behalf of the families.

The Bnei Zion pre-military academy issued a statement saying, "The entire Bnei Zion family— the management, the instructors, the graduates and the students—agonizes over and anguishes the untimely death of the nine girls and one boy who perished in the disaster."

"Nothing will console the families that lost the most dearest to them and nothing will alleviate their sorrow.

"We are attentive to the families' call and believe the justice system will impartially fulfill its role," the statement went on to say.

"We will continue to draw our conclusions which led us to cancel next year's school year in order to assure a long, comprehensive, and through process regarding all the academy's activities," the statement concluded.