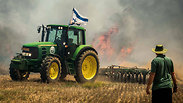 Fires in Gaza border communities amid incendiary balloons
Kite, balloon terrorism continues scorching Israel's land
Despite IDF's efforts, more than 100 days have passed since the kites and balloons terrorism began, causing massive damage to agricultural produce and destroying Israeli land; firefighting crews fight daily against the rampant blazes in the south.
More than 100 days have passed since the kite and balloon terrorism began. So far, it has resulted in 678 fires in farmlands and wooded areas in Israeli communities on the Gaza border community, with 9,160 dunams (2,260 acres) of mostly natural grove consumed.

In addition, 6,000 dunams (1,500 acres) of agricultural produce and thousands of dunams (acres) of open fields were burned to the ground.

The Keren Kayemeth LeIsrael (KKL) alone has lost 15,100 dunams (37,000 acres) of land, not including the Gaza border communities' lands that were scorched.

Firefighters, community security coordinators, and KKL teams worked tirelessly to put out 33 fires across the Eshkol, Sdot Negev and Hof Ashkelon regional councils on Monday. The firefighters managed to gain control of most of the blazes within minutes, except for the fire in Kibbutz Gvar'am, which took the crews a longer time to overcome.

Fires sparked in Kibbutz Or HaNer amid incendiary balloons (צילום: אלדה נתנאל)

Despite the IDF's announcement that a high-tech solution has been found to eliminate the incendiary balloons threat—in the form of detection and interception drones— fields are still being burned every day and the threat posed by the balloons is only increasing.

The IDF is operating a system able to detect and track the balloons. However, they are still not being intercepted while in the air.

Large army forces are deployed in Gaza border communities to help prevent the fire from spreading by early detection of the incendiary balloons.

Prime Minister Benjamin Netanyahu declared Monday afternoon Israel will be closing the Gaza Strip's main commercial crossing in Kerem Shalom and limiting the Palestinian coastal enclave's fishing zone in response to the balloons terrorism rampant across Israel's southern communities.

Netanyahu said during a Likud faction meeting he had reached a joint decision with Defense Minister Avigdor Lieberman to "crack down immediately on the Hamas regime in the Gaza Strip. In a significant move, we will today shut down the Kerem Shalom (border) crossing."

Nevertheless, the IDF stressed Kerem Shalom would remain open for the transfer of specially approved humanitarian goods by the coordinator of government activities in the territories.

It also said Gaza's fishing zone would revert to 11 km (6 miles) after it was temporarily expanded to 17 km (9 miles).

Hamas slammed Israel's decision saying, "Israel's Prime Minister Benjamin Netanyahu authorizing further steps to increase the siege (on Gaza) and prevent goods and materials from coming into Gaza is a new crime against humanity, which is added to the Israeli occupation's black list of actions against the Palestinian nation and the strip's residents."