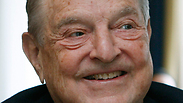 Soros may have used NGO to further business interests
Officials close to Hungarian-American billionaire say that his international Open Society Foundations was used to promote his business interests in Ukraine and elsewhere; claims come in the wake of report that Israeli corporate spy agency Black Cube was used against Soros during Hungarian election.
Former senior officials with ties to Jewish Hungarian-American billionaire George Soros, have claimed that the Open Society Foundations (OSF), the non-profit international grantmaking NGO founded by Soros, allegedly worked to promote his business interests.

The admission comes in the wake of a report by Politico that the Israeli corporate spy agency Black Cube was involved in the defamation campaign against Soros in the period leading up to the Hungarian elections.




Black Cube's involvement was allegedly intended to influence the elections. Company officials deny the allegations and new details indicate that they were hired for financial motives, as part of a feud with another billionaire.

Ynet has obtained testimony from Prof. Yevhen Bystrytsky, a Soros associate who was the executive director of OSF Ukraine (International Renaissance Foundation) until January 2018, in which he describes how the foundation worked to influence Ukrainian political events in order to advance Soros's business interests.

"We had a decisive influence over the Ukrainian revolution," he said. "It is a very sensitive matter. The foundation was active in the early stages in support of the opposition. We are very attached to elements within the Ukrainian government and its key ministers. We had 150 people working to influence the government's policy."

According to the affidavit, Soros promoted and financed, via his foundation, the ousting of Viktor Yanukovych's right-wing government in Ukraine in 2014. Later, he claimed, Soros planted his people as advisers to the new Ukrainian government ministries and ostensibly exploited his advisers to promote the privatization of the national oil company "Naftogaz" for his own economic interests.

According to other sources, Tracie Ahern, CFO at Soros Funds Management between 2007 and 2015 and one of Soros' close associates, admitted that the foundation was used to promote financial interests.

"Soros uses OSF to influence his personal objectives. He has close to 2,000 people working to promote his interests; not only in Hungary, but in many places around the world," she said.

A source familiar with Black Cube responded to the Politico allegations: "The matter is a business dispute between Soros and another very powerful billionaire, and this feud is spread throughout a number of countries out of economic interests, and is not related to the elections in Hungary. Election campaigners simply took advantage of the opportunity and used it the moment it suited them. It is puzzling that Soros, who is trying to topple governments around the world, is pulling out the political victim's card."

Maj. Gen. (res.) Giora Eiland, an adviser to Black Cube in areas of policy and strategy, referenced to the Politico story: "We conducted dialogues in the company in light of this. The company did not deal with politics and unequivocally does not, and will not, engage in political intrigue or elections.

"This is a corporate intelligence company whose aim is to bring evidence that is admissible to a court in a Western country that can decide the outcome of an economic dispute between two commercial entities. We choose our clients only when we believe that they are on the right side of the dispute, i.e. the good side and not the agitating party. The company is currently carrying out similar operations in Israel with very influential and honorable clients," Eiland said.

An official statement from black Cube also released a statement on the matter: "Black Cube supports the work of many leading law firms around the world while gathering evidence for complex business disputes, and for that purpose alone. Black Cube does not get involved in politics, whether in Hungary or other places in the world," the statement read.

"It is Black Cube's policy to never discuss it's clients with any third party and to never confirm or deny any speculation made with regard to the company's work," it continued.