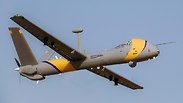 Elbit Systems recently developed a large unmanned aerial vehicle (UAV), the Hermes 900 StarLiner intended to be used to assist security forces effectively and safely perform complex homeland and border security missions without disturbing commercial aviation.

Thus far, drone or UAV flights in civilian airspace have been limited as they necessitate halting commercial flights. The new drone, the first such aircraft licensed to fly over urban areas, is fully compliant with NATO's Standardization Agreement (STANAG) 4671, qualifying it to be safely integrated into civilian airspace and fly in the same environment with commercial manned aircraft.

Hermes 900 StarLiner (צילום: אורי דוידוביץ)

The UAV can take off and land at civilian airports like London Heathrow, NYC Kennedy or Ben Gurion near Lod.

The Swiss government is the first customer to purchase the aircraft and they plan to use it to patrol their borders as well as for police operations, although they are situated right in the center of Europe known for its overcrowded airspace.

The UAV platform is based on Elbit's familiar Hermes drone, which is in wide use by the air force and foreign militaries and is capable of carrying out missions against distant targets such as Iran or eastern Syria.

It has a wingspan of 17 meters, equal to the length of a Boeing 737, and it weighs 1.6 tons. Its satellite communications system enables it to transmit from any point on the globe.

It is also equipped to carry the SkEye ("Eye in the Sky") electro-optical high resolution camera along with an advanced radar that can cover a radius of 80 km.

The UAV's range of operations is more than 1,000 kilometers and it can remain in the air for up to 30 hours. It can fly at a speed of 85 knots at a height of 30,000 feet, similar to commercial passenger planes.

In contrast to other military drones, and as part of the strict criteria necessary for its civilian license, the StarLiner includes an advanced sensor system that detects the approach of civilian aircraft to its flight path, a capability that will prove invaluable in a situation in which a civilian pilot loses contact with the control tower.

Currently, the UAV can perform automatic maneuvers enabling it to avoid a collision. Its more powerful 160-horsepower rear-mounted enginefor allows for an improved climb rate and extended endurance, which is also effective for avoiding cliffs or mountains in the event that its takeoff or landing takes place at an airport near a complex topographic area.

The aircraft is also protected by a direct lightning strike sustainment system and is capable of landing and taking off from a civilian runway without the aid of a braking cable, required by other UAVs, even in heavy fog, owing to its built-in ground radar to prevent ground collisions.

Israeli UAVs have been used in the past to secure civilian airspace, including during the previous World Cup in Brazil. They were used by police to locate demonstrations, but they had to empty the skies of all commercial aircraft at the time.

The Israel Police currently uses helicopters and observation balloons for their operations, but they are limited in size and with regards to the quality and the means of photographing and tracking, operating speed, time spent in the air and the manpower they need to operate the craft.

"We invested four years of development in the project, the UAV is very accurate and adapted to the most stringent current requirements for planes such as Boeing and Airbus," said Elad Aronson, Executive Vice President and General Manager of Elbit Systems ISTAR Division. "This is a real breakthrough in the world of UAVs."