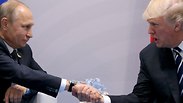 Presidents Trump and Putin
Photo: Reuters
Putin, Trump to discuss Syrian deployment along Israel border
As the two leaders prepare to hold a summit in Helsinki next Monday, major talking point expected to revolve around removing Iranian and Hezbollah forces from near the Golan Heights and replacing them with Assad's soldiers, despite Israel's insistence that they be removed from Syria entirely.
Russian President Vladimir Putin has begun accelerating efforts ahead of the Helsinki summit next week with his US counterpart Donald Trump to formulate an agreement in Syria that will include removing Hezbollah and Iranian forces from the Syrian-Israeli border, according to a report in Bloomberg.

According to international news sources, Putin and Trump are likely to reach an agreement during their discussions next Monday about the stationing of Syrian forces on the border with Israel in the Golan Heights and about Iranian and Hezbollah forces vacating the area in partial accordance with a long-standing Israeli demand that they leave the war-torn country entirely.

Putin held talks on Thursday with a senior advisor on International Affairs to Iranian Supreme Leader Ali Khamenei, Ali Akbar Velayati, a day after he met with Prime Minister Benjamin Netanyahu in Moscow.

Russia agreed with the Israeli and American demand that forces supported by Iran in southern Syria be moved away from the Israeli border and replaced by forces belonging to Syrian President Bashar Assad, according to Kremlin advisors.

However, Time Magazine reported that Russia, an Assad ally, warned that the expectation that Iran completely vacate Syria is unrealistic.

The deal, which is not expected to be published after Putin's meeting with Trump on Monday, largely plays into the hands of Russia, which has sought calm in relations with the United States.

According to a high-ranking Israeli official, who commented after Netanyahu and Putin's meeting on Wednesday, a "realistic opportunity has been created to push Iran out of Syria."

"It's not wishful thinking. Russia, too, is not fond of Iranian presence in Syria, and even (Syrian President) Assad understands that the Iranians are exploiting him to promote their own interests in the area. Therefore, it is important to coordinate with the Russians and others involved in this conflict," explained the source.

Netanyahu told Putin that "Israel will thwart any attempt to violate its sovereignty both in the air and on land," setting the tone of another meeting between the two leaders in Moscow.

He also said that Israel would not seek to topple Assad, but Moscow should encourage Iranian forces to quit Syria, the senior Israeli official said

Israel has been on high alert as Assad's forces advance on rebels in the vicinity of the Golan Heights, much of which Israel captured from Syria in 1967 and annexed in 1981. Israel worries Assad could let his Iranian and Hezbollah terror reinforcements entrench near Israeli lines or that Syrian forces may defy a 1974 Golan demilitarization.

Reuters contributed to this report.