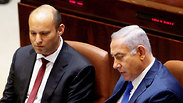 Prime Minister Netanyahu and Minister Bennett
Photo: Reuters
Netanyahu adopts Bennett's nationality bill solution
Bayit Yehudi leader and PM agree to amend details of controversial article 7, which currently allows for excluding citizens from communities based on their nationality or religion; amended version sees Jewish community development 'as a national value and will act to encourage and promote its establishment.'
After an intensive round of talks between Prime Minister Benjamin Netanyahu and Minister of Education Naftali Bennett, an agreement has been reached regarding the contentious clause of the nationality bill which authorizes the establishment of exclusive Jewish-only communities.

According to the revised phrasing in the bill, "The State views the development of Jewish settlement as a national value and will act to encourage and promote its establishment."

This new revision will stipulate that according to the state, the establishment of Jewish settlements is not discriminatory, but a legitimate realization of the Zionist vision.

The Bayit Yehudi and the Likud parties, and various legal establishments, approved this amendment, which will be brought before the Joint Committee of the Nationality Bill for approval Monday, prior to a vote in the Knesset.

Part A of article 7 of the bill grants all residents of the state the right to take action to preserve their culture, heritage, language and identity. Part B of the section allows the exclusion of citizens from cities and towns based on their nationality or religion.

Critics of the bill raised concerns that this section will permit the exclusion of various populations and allow the establishment of Jewish settlements and communities only.

The controversial article aroused the opposition of Attorney General Avichai Mandelblit and President Reuven Rivlin. The pressures put on Netanyahu by the attorney general and the president, forced the prime minister to compromise and revise the clause.

This Nationality bill, proposed by MK Avi Dichter and other members of the Knesset, outlines several practical aspects of Israel's classification as the nation-state of the Jewish people. The bill addresses state symbols (national anthem, flag, icon), Jerusalem as capital of the state, and the Hebrew language as the official language of Israel.

The Arabic language will receive a special status as Israel's second official language, but the law will not require to make state services accessible in Arabic as well.

The bill's critics argue that the article dealing with the preservation of heritage is likely to authorize, to a certain extent, religious communities to excuse their students from studying core curriculum subjects. However, those involved in drafting the bill, refute this claim, stating that this is not the bill's intention.

2,500 people demonstrated in Tel Aviv Saturday, protesting the nationality bill, marching from Rabin Square to the intersection of Dizengoff and Bar Giora streets.

On Sunday, a shouting match erupted at the Knesset's Constitution, Law and Justice Committee on Sunday during a vote on the controversial bill.