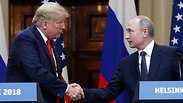 President Putin and President Trump
Photo: AP
Putin, Trump say Israel's northern border will be secured
Speaking in joint press conference after one-on-one Helsinki summit, Russian president says the pair agreed Israel's security would be ensured on the Golan Heights in accordance with 1974 separation agreement; 'Creating safety for Israel is something that both president Putin and I would like to see very much,' says Trump.
The United States and Russia will work together to ensure Israel's security, US President Donald Trump said on Monday after his meeting with Russian President Vladimir Putin.

Speaking during a joint press conference after a one-on-one meeting with Putin behind closed doors in Helsinki in a long-awaited summit, President Trump said Prime Minister Benjamin Netanyahu had been consulted on the matter.

"We both spoke with Bibi (Prime Minister Netanyahu) and they would like to do certain things with Syria having to do with the safety of Israel," Trump told reporters. "Russia and the United States will work jointly (in this regard)."

"Working with Israel is a great thing and creating safety for Israel is something both Putin and I would like to see very much," Trump said.

Putin said Trump had spent a lot of time talking about Israel during their talks. The conditions were in place for effective co-operation on Syria, Putin added. Washington and Moscow back different sides in the eight-year-old civil war.

Netanyahu's office issued a statement shortly after the press conference.

"Prime Minister Benjamin Netanyahu commends the abiding commitment of the US and President Donald Trump to the security of Israel, as expressed at the meeting between President Trump and Russian President Vladimir Putin. The friendship between Israel and the US has never been stronger," the Prime Minister's Office said.

"Prime Minister Netanyahu also very much appreciates the security coordination between Israel and Russia and the clear position expressed by President Putin regarding the need to uphold the 1974 Separation of Forces Agreement between Israel and Syria."

During the Helsinki press conference, Trump also said he and Putin wanted to help the Syrian people on a humanitarian basis.

"Our (US and Russian) militaries have gotten along better than our political leaders for a number of years. And we get along in Syria too," Trump said.

Trump also said he had stressed the importance of putting pressure on Iran, an ally of Russia, while Putin said he was aware of US opposition to the international nuclear agreement on Iran, which Russian supports.

The US president also praised the strong ties that had been forged with Israel and his administration, signalling that preserving Israel's security is a priority for both leaders.


"Never has any country, has anyone been closer to Israel than we are," Trump said in response to a reporter's question.

Israel has long made clear its position that any outcome to the civil war still raging in Syrian war would have to include the absence of Iranian forces and its terror proxies such as Hezbollah from the border, which it fears could serve as a launchpad from which to wage a military campaign.

Prime Minister Netanyahu has made repeated visits to Russia in an effort to persuade Putin use its influence in Syria to remove all Iranian forces from near the Golan Heights, the latest of which took place last week in a trip to Moscow during the World Cup.

In other matters during the post-meeting press conference, Trump did not criticize Russia on any of the issues that have brought relations between the Washington and Moscow to a post-Cold War low.

Asked if he trusted US intelligence agencies which concluded that Russia interfered in the 2016 election, he said he had been told by his CIA chief that it was Russia, but that he saw no reason to believe it.

"President Putin was extremely strong and powerful in his denial today," Trump said.

Reuters and Associated Press contributed to this report.