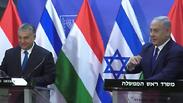 PM Victor Orbán and PM Netanyahu
Photo: Eli Mendelbaum
Netanyahu tells Hungarian PM Israel is defending Europe
As the nationalist leader Victor Orbán kicks off three-day visit to Israel, Prime Minister Netanyahu thanks him for defending Israel on the world stage 'time and again', praising Hungary for leading 'the charge in changing the way Israel is treated in international forum.'
Prime Minister Benjamin Netanyahu told his Hungarian counterpart Victor Orbán on Thursday that Israel is "in many ways defending Europe" in the battle against radical Islam.

Speaking in a joint press conference before the two leaders discussed a range of issues as Orbán kicked off his three-day visit to Israel, Netanyahu said that "we both understand that the threat of radical Islam is a real one" which he he said could endanger Europe, the world and Israel's Arab neighbors.

PM Netanyahu and PM Orban (צילום: אלי מנדלבאום )

"We believe that of all the sources of militant Islam, Iran is the greatest threat to our common civilization and by being here, in this country here, at the front line of the battle of radical Islam, in many ways Israel is defending Europe," he told the right-wing Hungarian prime minister, who has earned a reputation for his tough stance against immigration into his country.

"And I want to thank you for defending Israel. You have stood up for Israel time and time again in international forums," Netanyahu said.

"It is deeply appreciated and it is important, and it is an important goal of Israeli foreign policy to change not only our bilateral relations with so many counties, and indeed our relations are flourishing as never before, it is also to change the way Israel is treated in international forum. And on this, Hungary has led the charge many, many times and I thank you for it."

The Prime Minister of Hungary thanked Netanyahu for his visit to Budapest last year and said: "We are experiencing a crisis of immigration and terrorism in Europe, terrorists are exploiting immigrants' paths to Europe, we must take steps against this phenomenon."

"Hungary has zero tolerance for all manifestations of anti-Semitism. All Jewish citizens in Hungary are protected by the government, and we are proud of that," Orbán added.

Hungary's prime minister also talked about his relationship with Netanyahu. "The excellent ties between Israel and Hungary stem from the excellent relations between Netanyahu and me. Both countries have a patriotic leader, and it makes sense that a Hungarian patriot and a Jewish patriot find common ground," said Orbán.

"This year we celebrate 30 years of renewed diplomatic ties between the two countries. We both agree on how to deal with the challenges facing us in the 21st century," the Hungarian prime minister asserted.

"We see eye to eye on matters related to security and the preservation of the state's borders, and we fully agree that security is the most important thing, and every nation has the right to defend its citizens," Orbán concluded.

Prior to Orbán's landing in Israel on Wednesday evening, Hungary's Foreign Minister Péter Szijjártó described his country as "one of the most committed allies of Israel in Europe."

Before his meeting witth Netanyah, Hungary's prime minister also said that Hungary is "willing to take part in the war against anti-Semitism. We believe that one of its forms is the statements made against the State of Israel."

It is the first visit to Israel for Orbán, who is regarded as one of the more controversial leaders of the European Union because of his support of anti-democratic legislation.

The four-time Hungarian prime minister drew criticism last year for praising Miklos Horthy—Hungary's World War II-era ruler who introduced anti-Semitic laws and collaborated with the Nazis—and employing tropes that were anti-Semitic in tone against billionaire philanthropist George Soros during his re-election campaign.

Orbán evoked anti-Semitic language in denouncing Soros, saying that Hungary's enemies "do not believe in work, but speculate with money; they have no homeland, but feel that the whole world is theirs."

Despite global Jewish condemnation of those remarks, Netanyahu praised Orbán for combatting anti-Semitism and thanked him for Hungary's pro-Israel stance.

Orbán chalked up his country's strong bilateral ties with Israel to the two leaders' "excellent personal ties" and "because the two countries have patriots as leaders."

Netanyahu visited Hungary last year—the first visit by an Israeli premier since the 1980s—and was warmly received by Orbán. During the trip, Orbán said the European Union's ties with Israel were "not rational enough," criticizing its stipulation that closer ties would follow resolving the conflict between Israel and the Palestinians.

The Israeli premier has taken flak in Israel for embracing Orbán amid the Hungarian leader's increasing authoritarianism, as well as for striking a deal with Poland over a controversial Holocaust speech law. Critics of the compromise with Poland contend Netanyahu appeared to capitulate to the claim that Poles were only victims of the Nazis. Historians say anti-Semitism was prevalent in pre-war Poland and that some Poles collaborated with the Nazis in the Holocaust.

Opposition lawmaker Yair Lapid, whose father was a Hungarian Holocaust survivor, scorned Netanyahu ahead of his meeting with Orbán.

"After he disrespected the memory of Holocaust victims in the agreement with Poland, today Netanyahu will pay honors to Hungarian Prime Minister Orbán, who hailed and praised the anti-Semitic ruler who collaborated with the Nazis in destroying the Jews of Hungary," Lapid wrote on Twitter. "Shame!"

Lapid and fellow opposition politician Tamar Zandberg, head of the Meretz party, called for a boycott of Orbán's visit.

"Netanyahu has a thing with anti-Semitic leaders around the world, from Hungary and Poland, to the head of the Philippines, (Rodrigo) Duterte, who compared himself to Hitler, and instead of suffering condemnation, was invited as well for a state visit with the prime minister of Israel," Zandberg wrote on Facebook.

Protesters were later expected to demonstrate at Yad Vashem, Israel's Holocaust memorial, during Orban's visit there.

During his trip, Orbán will be ccompanied by several of his ministers. He is scheduled to meet with President Reuven Rivlin and Chief Rabbi David Lau.

At Yad Vashem, Orbán will plant a tree at the Nations Forest in the capital. On Friday, Orbán will visit the Western Wall before returning to his country.

The Hungarian prime minister will skip a visit to the Palestinian Authority, but he is sending his deputy to visit the Church of the Nativity in Bethlehem.