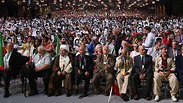 The NCRI rally in France
Photo: AFP
Mossad helped thwart major Iranian terror attack in France
Israeli agents uncovered information about alleged plan by Tehran to bomb Iranian opposition group's annual rally outside Paris; Mossad cooperated with authorities in France, Germany and Belgium to foil the attack and apprehend the suspects, including an Iranian diplomat.
The Mossad helped thwart a major Iranian terrorist attack in France last month, it was cleared for publication on Thursday evening.
Mossad agents uncovered intelligence about an alleged Iranian plan to bomb the annual National Council of Resistance of Iran (NCRI) rally in the town of Villepinte, a northern suburb of Paris, on June 30.
According to Channel 2 News, the attack was thwarted thanks to cooperation between Israel, Germany, France and Belgium.
Belgium is investigation two Belgians of Iranian origin arrested Saturday, with 500 grams of the homemade explosive TATP and a detonation device found in their car.
In addition to the two people arrested in Belgium, an Austria-based Iranian diplomat was held in Germany on suspicion of heading the Iranian terror cell that planned to set off the explosive device during the rally. Another man of Iranian origin was held in France.
Judicial authorities in France and Germany told Reuters Belgium had requested they be extradited.
Iran has said it had nothing to do with the plot, which it called as a "false flag" operation staged by figures within the NCRI, an umbrella bloc of opposition exiles that seek an end to almost 40 years of Shi'ite Muslim clerical rule in Iran.
During a visit by Iranian President Hassan Rouhani to Vienna on Wednesday, Austrian Chancellor Sebastian Kurz said in a statement to reporters that Rouhani had assured him that he would work to clarify the case.
Highlighting the political sensitivities, Iran summoned France's ambassador to protest against the staging of the opposition meeting. Tehran "strongly protested against the French support of activities of the terrorist organization," referring to an exiled opposition group.
The French foreign ministry confirmed on Thursday that its ambassador had been summoned on July 3 following the rally, but dismissed any suggestion that it supported the NCRI.
Iranian authorities "were reminded that France supports neither the ideology, objectives nor activities of the PMOI. However, having been removed from the European list of terrorist organizations, this organization can carry out, like any other association, activities, as long as they do not undermine public order," a French diplomatic source told Reuters.
"On the planned attack at Villepinte (just outside Paris), an investigation is in progress. It will have to determine the real sponsors of this projected attack," the French diplomatic source said.
The People's Mujahideen Organization of Iran is the main component of NCRI. The group, also known by its Persian name Mujahideen-e-Khalq, was once listed as a terrorist organization by the United States and the European Union but not since 2012.
Tehran has long called for a crackdown on the NCRI in Paris, Riyadh, and Washington. The group is regularly criticized in state media.
'No coincidence attack was foiled'
Earlier this month, Prime Minister Benjamin Netanyahu said it was "no coincidence" that a recently planned Iranian-led attack on an Iranian group in France was foiled, but did not explicitly state Israel was involved.

"This week there was an example of Iran's boundless hypocrisy and brazen gall. This week, the president of Iran met with leaders in Europe in order to try and overcome President Trump's sanctions regime," Netanyahu added, in reference to the US president's withdrawal from the Iran nuclear deal.

"And I tell you that this attempt will fail—even as Iran planned a terrorist attack on French soil in Europe. It was no coincidence that this attack was thwarted," he declared.

"The commander of this terror cell was an Iranian diplomat in Austria," Netanyahu continued. "Fortunately, the plot was discovered, and the members of the Iranian cell were arrested in France, Belgium and Germany."

"During their arrests, the cell members had explosives and more. European authorities are now completing their investigations and are expected to indict the Iranian agents and cell members behind this plot."

"I call on the leaders of Europe: Stop financing the terrorist regime that is financing terrorism against you on your soil. Enough with the policy of appeasement and weakness regarding Iran," Netanyahu said.

Reuters contributed to this story.