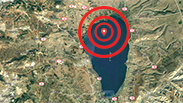 A minor 3.4 magnitude earthquake struck near the Kinneret area on Sunday, according to the Geophysical Institute of Israel, rocking the northern region mere days after a string of minor earthquakes rumbled the area in recent weeks.

Some of the local residents shared their experiences of the incident.

"I was in the safe room and felt the earth move. My neighbors also felt it, I heard them talking about their chandelier moving. Now people are afraid to even go out to their balconies," said one Tiberias resident, Bracha Shashonov.

Melanie Yankovich was in her office in Tiberias when the earthquake struck.

"The whole office started shaking. I didn't feel all the previous tremors but this time the whole office was actually shaking. There are 200 employees in the office, many women, so the atmosphere was really stressful," she explained.

Since the beginning of July a series of tremors have occured in the northern Kinneret area, with some of them being felt even in the center of the country.

At the start of the month, a 4.1 magnitude earthquake hit the area with an even stronger earthquake occuring in the same location the next day that was reverberated throughout northern Israel as well as in central cities and towns.

Several tremors occurred in the same area in the following days.

Dr. Yariv Chemiel, director of the Geological Risks Division at the Geological Survey of Israel, said at the beginning of the month that a major earthquake is most likely to occur sometime in the near future.

"I cannot say when a major earthquake will strike Israel, but I can say that it will. There were major earthquakes in the past and there will be in the future. Along the eastern border lies the Syrian-African rift. So strong earthquakes are inevitable," he explained.

"The cities located along the Arava, the Jordan Valley, the Dead Sea area and the Hula Valley area are the ones most likely to be hit in the event of a strong earthquake," he warned.