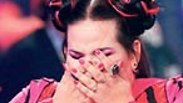 Netta Barzilai wins Eurovision
Government won't allocate funds for Eurovision preparations
After PM Netanyahu backs down on his demand to split the IPBC from its news division to keep the Eurovision in Israel, he fails to allocate budget needed to produce the contest; IPBC's CEO says that without the state funding the competition, it won't be held in Israel; Netanyahu insists IPBC's annual budget should do.
The Israel Public Broadcasting Corporation (IPBC or "Kan" in Hebrew) cannot begin preparation for the Eurovision Song Contest, which is supposed to be held in Israel in 2019, since the government refuses to approve the allocation of fund for the competition.

The state's refusal to fund the Eurovision is only one of the obstacles the song contest's organizers have encountered as part of their efforts to host it in Israel, after Netta Barzilai's "Toy" won this year's competition.

Prime Minister Benjamin Netanyahu has been pushing to split the Israel Public Broadcasting Corporation from its news division. However, after the European Broadcasting Union (EBU) signaled that such a move would prevent Israel from hosting next year's Eurovision Song Contest, Netanyahu backed down.

The production cost of the Eurovision in Israel is estimated at 35 million euro, and the IPBC is supposed to transfer 12 million euro as a guarantee to the EBU in the upcoming days.

Despite Israel's enthusiasm over its win in the 2018 Eurovision, the government has yet to take any practical steps to host the contest, such as allocating a budget for its preparations.

IPBC CEO Eldad Koblenz sent Finance Minister Moshe Kahlon an official letter regarding the matter, warning that the competition being held in Israel is at risk.

"Following recent talks and correspondence between both parties about transferring funds required for the IPBC to produce the Eurovision Song Contest, I would like to stress and clarify that without the support and full funding needed to produce the contest, unfortunately it won't be held in Israel," Koblenz said in the letter.

"The first and most urgent milestone we have to overcome is providing a bank guarantee until August 1st, as demanded by the EBC.

"The contest's production is extremely elaborated and requires a lot of time to prepare for. My hope is that all the relevant parties will join forces (to make it happen)," he concluded.

A senior official in the Finance Ministry explained that, "The Prime Minister's Office refuses to approve the allocation of budgets to the IPBC at this time."

A government official quoted Netanyahu as saying that "The IPBC receives a NIS 700 million budget per year, which should do."

An official at the PMO noted that "the decision (not to allocate the funds) was made both by the Prime Minister's Office as well as the Finance Ministry.

"If the Finance Ministry wishes to change its decision as the one responsible of the budgets, it is welcome to preset the matter to us."