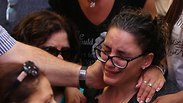 Tal Ovadia
Photo: Amit Shabi
Widow of Adam terror victim: 'I don't know how to be strong for the children'
Tal Ovadia, whose husband, Yotam, was stabbed to death by a Palestinian terrorists in Adam last week, grieves as she faces her new reality of raising her two sons alone; 'Everything he did was for us'; cop leading investigation discovered at the scene the slain victim was his cousin.
The widow of Yotam Ovadia who was stabbed to death last Thursday by a terrorist in the settlement of Adam said on Saturday that she does not know "what I will do now as far as my children are concerned."

Speaking a day after her husband was buried in Givat Shaul Cemetery in Jerusalem, Tal, a mother of two, said "I don't know how to continue and to be strong for the children. We were everything to him. The home was his kingdom."

Ovadia was killed by 17-year-old Mohammad Tareq Yousef from Kobar in a stabbing attack on Thursday night while he was on his way to his parents' house to collect items he bought for a romantic dinner he had prepared to surprise his wife to celebrate the Jewish holiday of Tu B'Av—similar to Valentine's Day.

Tal described Yotam as a decent, modest and humble man of work. "He loved me and the children in a way I had never seen in my life," said the grieving widow, who is now raising her two sons—Harel aged two and ten months, and Itay aged seven month—alone.

"Everything he did was for us. He always made sure that things were good. He always put himself last," she said.

Tal noted that the day on which Yotam was killed, he came home from work with a bunch of flowers and chocolates to celebrate Tu B'Av.

"We took a photo together and he was happy. After I put the children to sleep he went to get things from his parents but he didn't manage to make it to them," she added.

"Everything I wanted or asked for he did and he loved me in a way that does not exist," Tal repeated. "He fulfilled every dream for me. I would always say to him: 'You are the one, the only and special one for me.'"

According to eyewitnesses who were present at the attack, Yotam also tried to fight the terrorist, which prevented him from breaking into homes in the settlement to carry out more stabbings.

Security forces are still investigating how Yousef managed to enter the settlement.
While investigating attack, cop discovered victim was his cousin
When Chief Superintendent Eli Ovadia, commander of the Binyamin Police Station, launched the investigation into the incident, he discovered that the man who had been seriously wounded in the attack was his cousin, who later succumbed to his wounds.

"While I was getting ready to leave my home, I was giving instruction to the forces who arrived at the scene," supt. Ovadia said.

"At this point I had not yet spoken to my cousins. As I was approaching the community I realized it happened on the street where my cousins live—Avraham and Karmella—Yotam's parents who live a few houses away from them, but I didn't want to believe it," he added.

"I arrived at the scene and immediately one of the neighbors said to me that Yotam was the wounded man. It was a shock. Total shock. I almost exploded inside and my stomach was torn," said the policeman.

Ovadia continued to preside over the investigation, he said, while praying for Yotam's welfare.

"On the one hand I have to maintain my composure and continued to manage the area. But the uncles already started calling me. It is a moment I don't wish on anybody. I was in the field and had to work while at the same time pray for my beloved nephew," Ovadia recalled.

Two hours later, Ovadia received the news that Yotam had succumbed to his wounds. "No one can digest the fact that Yotam is no longer with us. We hugged each other and since then we have been crying," he said.

"I always thought I was immune from crying. When it's your family your stomach turns over. You know that you are on the job and you can't work on emotion, but inside it's a storm. It was a difficult moment."