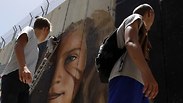 Mural sprayed on security barrier
Photo: AFP
Two Italian artists, arrested over the weekend for painting a large mural of the teenage Palestinian provocateur Ahed Tamimi on Israel's West Bank security barrier, left Israel on Monday, their lawyer said.

The two artists—Jorit Agoch and Salvatore De Luise—were arrested on Saturday in the city of Bethlehem after spending days creating the mural depicting Tamimi, who has gained fame for her provocative activities against the IDF and who was imprisoned by Israel for eight months for pushing, slapping and kicking two soldiers.

They were caught in the act and, along with a Palestinian, arrested for vandalism, according to police, who said they tried to flee the scene.


The artists were held in two separate detention facilities and on Sunday, Israel canceled their visas and ordered them to leave the country within three days.

Their lawyer, Azmi Masalha, said that Israeli authorities did not pursue any criminal charges. Beyond ordering their departure, Israel barred them from entering the country again for 10 years.

A spokeswoman for Israel's immigration authority did not immediately respond to requests for comment.

Tamimi, 17, was arrested in December after she assaulted two Israeli soldiers outside her family home while screaming in the their faces. Her mother filmed the incident and posted it on Facebook, where it went viral and, for many, instantly turned Tamimi into a symbol of resistance.

Israel says her actions proved she was trying to provoke a physical reaction from the soldiers on camera. Israel also praised the soldiers for showing restaint.

Tamimi's case has drawn international attention and she received a hero's welcome when she was released from prison on Sunday.

The lawyer, Masalha, said the artists drew the mural in a sign of "solidarity" with Tamimi.

Masalha said he viewed with suspicion the artists' arrest when there are countless works of graffiti on the security barrier and questioned the timing so close to Tamimi's release.

"They were arrested on the fourth day of carrying out this graffiti painting despite the fact that there is an observation tower of the military there and they were under this observation point from the first day and it's interesting as to why this incident occurred on the fourth day," he said.

Masalha said diplomatic officials from Italy were involved in securing the artists' release.

Three recent posts on an Instagram account believed to be Agoch's had a photo of the mural in progress, a photo of an Israeli police vehicle and a black and white handwritten note reading: "Free thank all of you."

The two artists left Israel on a Monday morning flight to Naples, Italy.