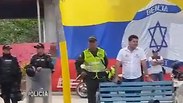 Three Israelis were arrested over the weekend in Colombia, along with 15 others, on suspicion of involvement in sex trafficking in the tourist city of Cartagena that included the sexual exploitation of more than 250 women and girls.

Those arrested include foreigners, hotel owners, policemen, a navy captain who forced his victims to tattoo his name on their bodies, and a Colombian woman known as "Madame" who authorities say led a sex trafficking ring.

Local media reports said that Colombia had asked Interpol to arrest Israeli citizen Assi Ben-Mosh, who was deported last November from the South American country on suspicion of his involvement in running the underage sex ring.


Authorities claimed that even after his expulsion, he continued to manage his illicit operations in Colombia from afar.

Colombian authorities said that Mosh had harmed the security of the state and its citizens. Reports identified Mosh, who owns the Benjamin Hostel near Santa Marta in northern Colombia, and local news sites accused him and his associates of tax fraud, drug offenses and inciting children to prostitution.

The Benjamin Hostel was one of 13 sites raided by police on Friday night after dozens of Israelis staying there finished saying Kiddush. Drugs were found and confiscated during the raid and police ordered the closure of the hostel.

Mosh denies any connection to the tourism sex ring and is currently waging a legal battle in order to return to Colombia.

Charges against the 18 suspects include recruiting and selling girls aged 14 to 17 into the sex trade in Cartagena and abroad, and forcing them to have sex with locals and tourists.

Cartagena, on the country's Caribbean coast, attracts hundreds of thousands of foreign tourists a year to visit its colonial-era ramparts and squares.

But the three-day sting operation, which ended on Sunday, has also exposed rampant child sex abuse.

"We will not allow Cartagena to become a sexual tourism destination," Duque tweeted on Monday, promising to "attack human trafficking and the exploitation of women in our cities and tourist destinations."

In separate tweets, Duque, who takes over the presidency on August 7, said those found guilty should receive the maximum prison sentences possible—up to 40 years—to help prevent such "atrocious" crimes from recurring.

Over six months leading up to the bust, police and prosecutors collected evidence using hidden cameras in tourist areas, including hotels, squares and streets.

It was one of the biggest operations to combat child sex trafficking and forced prostitution in Cartagena, authorities said.

In a statement, the attorney general's office described the victims as "real slaves of the 21st century."

"Madame" is charged with trafficking girls and young women abroad, in particular to nearby Caribbean islands, according to the attorney general's office.

Traffickers would prey on girls and women living in Cartagena's slums, promising them jobs and offering to arrange their passports and visas.

"When the victims arrived to the country where they hoped to work, they came across a very different reality," the attorney general's office said. "They were stripped of their documents, locked up and exploited sexually."

Prosecutors are also investigating the "abhorrent" case of a navy captain who, they said, has accepted the charges against him.

"There is abundant evidence that indicates that he located girls under the age of 14 on social networks, abused them, bought their silence, and ordered them to tattoo his name on parts of their bodies," the attorney general's office said.

Attorney General Nestor Humberto Martinez noted that many of the victims discovered during the operation were from neighbouring Venezuela.

With their country embroiled in economic and political turmoil, about 672,000 Venezuelans have crossed the border since 2015, according to Colombian authorities.

Campaigners warn that many of the migrants are vulnerable to exploitation by traffickers, while some have joined the sex trade out of desperation.