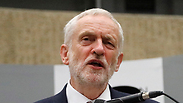 Peter Willsman, a close ally of British Labour Party chairman Jeremy Corbyn, has accused rabbis of "making up duff information without any evidence at all" about anti-Semitism in the party, further escalating the crisis between Labour and the Jewish community in the UK.

A recording surfaced on Tuesday on comments Willsman made at a meeting of the Labour's national executive committee (NEC) last month, in which he is also heard accusing Jewish "Trump fanatics" of making up allegations of anti-Semitism in the party.

Leaders of the Jewish community expressed outrage over the remarks which were made during a meeting which concluded with participants deciding not to fully adopt the International Holocaust Remembrance Alliance's definition of antisemitism.

Willsman appeared nonchalant about anti-Semitism and was taped saying he would "not be lectured" on it, despite the heightened concerns which have permeated the UK Jewish community over Corbyn's staunch opposition to Israel and apparent propensity in the past to share platforms with known rabid anti-Semites.

The president of the Board of Deputies of British Jews said Willsman should be expelled from his party Labour and insisted that Corbyn, who was present for at least some of the meeting, should have intervened," according to a report in the Guardian.

"Now Peter Willsman's disgusting rant against the Jewish community and rabbis has been made public … he should be summarily expelled, "Marie van der Zyl said. "Was Jennie Formby (the Labour party general secretary) there to hear what was said? If yes, why did she let Willsman off so lightly?

"Was Jeremy Corbyn there to hear Willsman? If so, what form did his professed 'militant opposition' to anti-Semitism take when he heard it? Why has it been so easy to clear Willsman after his slurs against the Jewish community, but anti-racist MPs Margaret Hodge and Ian Austin are still being put through the ringer?"

Since Corbyn took control of the party in 2015, Jews in the country have grown increasingly worried over what many have slammed as a reluctance to stamp out anti-Semitism in Labour or a lethargic attitude in addressing clear manifestations of anti-Semitism.

One UK Jewish activist told Ynet on Tuesday that a "stampede" of British Jews would immigrate to Israel if Corbyn was elected prime minister.

Earlier this week, three British Jewish newspapers said that there would be an "existential threat to Jewish life in this country" if Corbyn won power from the ruling Conservative Party.

The Jewish Chronicle, Jewish News and Jewish Telegraph said in a joint editorial titled "United We Stand" that the Labour Party had shown a tolerance of anti-Semitism since Corbyn was elected leader of the party.