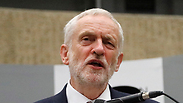 UK Jewish activist warns 'stampede' of Jews would leave if Corbyn rules
In interview with Ynet, Sharon Klaf says she does not envision Jews heading to Israel en mass like in France in the immediate future, but believes if UK Labour leader and staunch opponent of Israel were to snatch power from PM Theresa May 'there would be a mass stampede to leave the country.'
A "stampede" of British Jews would immigrate to Israel if UK Labour leader Jeremy Corbyn was elected prime minister, according to a Jewish activist in the country.

"At the moment I don't believe that they're (Jews) in danger. I believe that the Jewish people in this country are very concerned about anti-Semitism and it's rife in the Labour Party," said Sharon Klaf in an interview with Ynet.

"We've been monitoring anti-Semitism in the Labour Party since just about before Corbyn became leader of the Labour Party," she said, adding that one of the fundamental problems under Corbyn's leadership is its refusal to adopt the international definition of anti-Semitism.

Interview with UK Jewish activist

Britain was one of the first countries to adopt an international definition of anti-Semitism to clamp down on hate crime after an increase in the number of reported incidents targeting Jews.

"It means there will be one definition of anti-Semitism—in essence, language or behavior that displays hatred towards Jews because they are Jews—and anyone guilty of that will be called out on it," Prime Minister Theresa May said in pre-released extracts from a speech she was due to deliver in 2016.

"The Labour Party needs to find a way to use the definition because the definition … I think the part of the definition that upsets the Labour Party is the part that talks about Israel," said Klaf.

Asked why Jeremy Corbyn is such a threat to the Jewish community, Klaf lamented that "He's been an activist against Israel" since his youth.

Corbyn is known for supporting boycotts against Israel, referring to Hamas and Hezbollah as his friends and generally failing to take seriously complaints of anti-Semitism within his party.

"He referred to Israel as a rogue state" after the deadly Mavi Marmara flotilla incident in 2010, Klaf noted. "He wasn't talking so much about Palestinian rights. He was talking about Israel as a rogue state.

"This is his thinking, that Israel isn't actually a member of the nation states of the world, of the Western world that is a democracy," she said.

Klaf was asked whether she would advocate Jews from Britain making Aliyah to Israel en mass similar to significant numbers of French Jews leaving for Israel amid a spike in anti-Semitism.

"I'm not sure the British Jews are going to be leaving en mass in that way," but "if Corbyn ever became prime minister, then there would be a mass stampede to leave the country."

Earlier this week, three British Jewish newspapers said that there would be an "existential threat to Jewish life in this country" if Corbyn won power from the ruling Conservative Party.

The Jewish Chronicle, Jewish News and Jewish Telegraph said in a joint editorial titled "United We Stand" that the Labour Party had shown a tolerance of anti-Semitism since Corbyn was elected leader of the party in 2015.